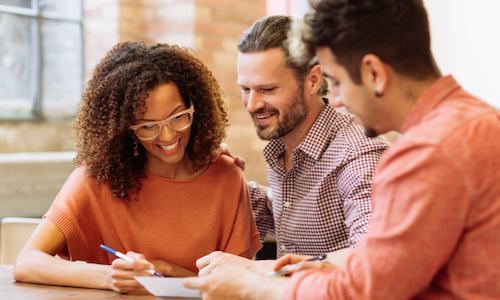 JD Power today named its annual home buyer/seller satisfaction award recipients, and in all four real estate consumer categories – first-time buyers, first-time sellers, repeat buyers, repeat sellers – Century 21 was the top pick; though, the brokerage tied once with Coldwell Banker.
For three years in a row, Century 21 has ruled JD Power's rankings. In all categories, the brokerage has stood out – and alone, with the exception of repeat homebuyer satisfaction, in which it won top honors alongside other major brokerage Coldwell Banker.
In a statement released with the results, Greg Truex, a senior director with the rankings group, aligned with the spirit of the awards and emphasized the importance of customer satisfaction – especially among first-time buyers, who could otherwise be known as future referrals.
"Satisfying the first-time buyer and seller market is essential for real estate firms to differentiate themselves and increase market share," he said. "To satisfy first-time buyers, agent communication must be transparent and informative at key points throughout the purchase process. For sellers, agents need to be proactive in providing premium marketing tools and services."
See our table below for the full results:
First-Time Buyers
| Category | Century 21 (Award Recipient) | RE/MAX | Berkshire Hathaway HomeServices | Coldwell Banker | Keller Williams |
| --- | --- | --- | --- | --- | --- |
| Overall Satisfaction | 5/5 | 5/5 | 3/5 | 2/5 | 2/5 |
| Agent/Salesperson | 5/5 | 4/5 | 3/5 | 2/5 | 2/5 |
| Variety of Additional Services | 5/5 | 3/5 | 2/5 | 2/5 | 2/5 |
| Real Estate Company Office | 5/5 | 5/5 | 3/5 | 2/5 | 2/5 |
| The Closing Process | 5/5 | 5/5 | 3/5 | 2/5 | 2/5 |
First-Time Sellers
| Category | Century 21 (Award Recipient) | Coldwell Banker | RE/MAX | Berkshire Hathaway HomeServices | Keller Williams |
| --- | --- | --- | --- | --- | --- |
| Overall Satisfaction | 5/5 | 2/5 | 2/5 | 2/5 | 2/5 |
| Agent/Salesperson | 5/5 | 2/5 | 2/5 | 2/5 | 2/5 |
| Variety of Additional Services | 5/5 | 3/5 | 2/5 | 2/5 | 2/5 |
| Real Estate Company Office | 5/5 | 2/5 | 3/5 | 2/5 | 3/5 |
| Real Estate Company Marketing | 5/5 | 2/5 | 2/5 | 2/5 | 2/5 |
| The Closing Process | 5/5 | 2/5 | 3/5 | 2/5 | 2/5 |
Repeat Buyers
| Category | Century 21 (Award Recipient) | Coldwell Banker (Award Recipient) | Berkshire Hathaway HomeServices | RE/MAX | Keller Williams |
| --- | --- | --- | --- | --- | --- |
| Overall Satisfaction | 5/5 | 5/5 | 5/5 | 3/5 | 2/5 |
| Agent/Salesperson | 3/5 | 3/5 | 5/5 | 4/5 | 2/5 |
| Variety of Additional Services | 4/5 | 3/5 | 5/5 | 4/5 | 2/5 |
| Real Estate Company Office | 5/5 | 3/5 | 3/5 | 3/5 | 2/5 |
| The Closing Process | 3/5 | 5/5 | 3/5 | 3/5 | 2/5 |
Repeat Sellers
| Category | Century 21 (Award Recipient) | Berkshire Hathaway HomeServices | RE/MAX | Coldwell Banker | Keller Williams |
| --- | --- | --- | --- | --- | --- |
| Overall Satisfaction | 5/5 | 3/5 | 3/5 | 2/5 | 2/5 |
| Agent/Salesperson | 5/5 | 4/5 | 4/5 | 2/5 | 2/5 |
| Variety of Additional Services | 5/5 | 3/5 | 2/5 | 2/5 | 2/5 |
| Real Estate Company Office | 5/5 | 3/5 | 4/5 | 2/5 | 2/5 |
| Real Estate Company Marketing | 5/5 | 4/5 | 3/5 | 2/5 | 2/5 |
| The Closing Process | 5/5 | 3/5 | 3/5 | 2/5 | 2/5 |