Inventory, the Achilles' heel of the 2017 housing market, is expected to loosen up in 2018, providing relief for buyers who were edged out of the market this year, according to the realtor.com 2018 Housing Forecast.
The report expects inventory to begin to increase in fall 2018 — after experiencing a 4 percent year-over-year decline in March — for the first time since 2015. Realtor.com expects Boston's inventory to recover faster than most other U.S. cities.
The loosening of inventory is also expected to cool down home prices, which surged 5.5 percent in 2017 due to buyers engaging in bidding wars for the few homes that were on the market.
"Most of the slowing will be felt in the higher-priced segment as more available inventory in this price range and a smaller pool of buyers forces sellers to price competitively," the realtor.com forecast said. "Entry-level homes will continue to see price gains due to the larger number of buyers that can afford them and more limited homes available for sale in this price range."
The slowing price growth and increase of inventory will leave plenty of room for millennials to enter the market after years of being sidelined due to unfavorable conditions. However, realtor.com notes that it's mostly due to the generation's sheer size rather than pristine market conditions. The generation accounted for 40 percent of mortgages in 2017, and that's expected to rise to 43 percent in 2018.
More key findings in the forecast include:
3.2 percent increase in home prices
2.5 percent growth in existing home sales
7 percent increase in new home sales
Average mortgage rate of 4.6 percent, hitting 5 percent by year end
Homeownership rate of 63.9 percent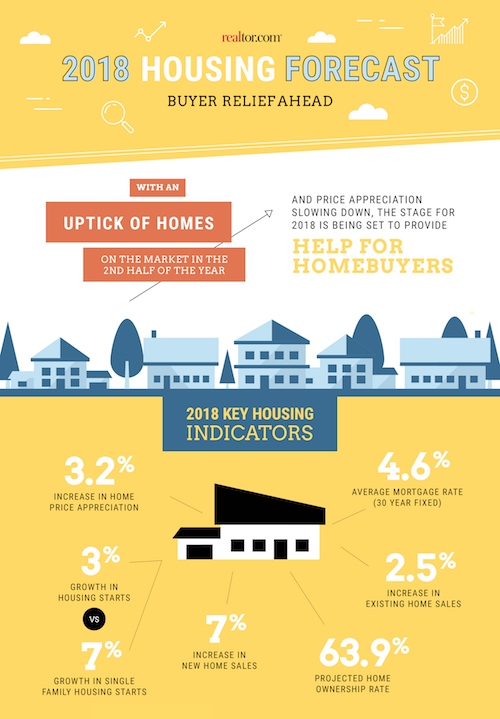 Source: realtor.com