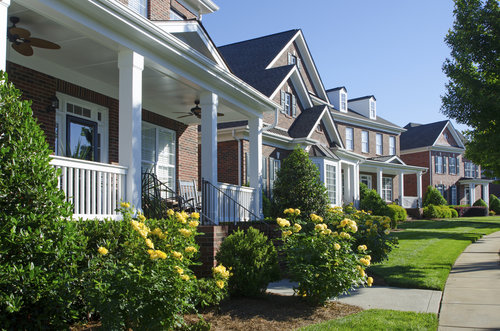 Most Americans think home prices in their area are going to rise, but the majority also still think that now is a good time to buy, according to the latest Gallup poll.
Gallup's annual Economy and Personal Finance poll found 64 percent of respondents saying they expect a price increase over the next year. This is an increase of nine percentage points from the past two years, and the highest figure since Gallup started recording the statistic in 2005.
The Gallup poll asks Americans to guess whether local home prices will increase, decrease or remain the same over the next year. In 2008, more Americans anticipated prices decreasing rather than increasing, but as of 2013, the majority of respondents have consistently expected increases.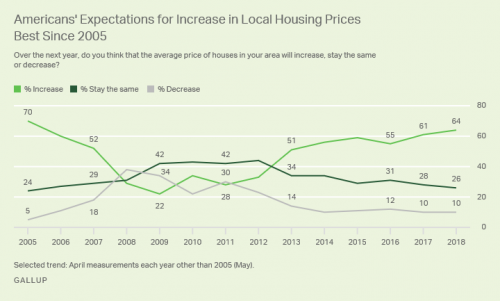 In the South, 64 percent of residents expect local home prices to increase, compared to 61 percent in 2016.
Despite expecting rising home prices, the majority of Americans (65 percent) think it is a good time to buy a house. This figure is down from 74 percent in 2014 — but is up from the low points between 2006 and 2008 where the figure was around 50 percent.
Income also correlates with how Americans perceive the housing market, with 76 percent of high-income Americans thinking now is a good time to buy a home, compared to 63 percent of middle-income and 55 percent of low-income Americans. Additionally, 70 percent of homeowners think it is a good time to buy, while only 50 percent of renters reported thinking now was a good time to buy a home. 
Though buying a home is still viewed favorably by most Americans, the high demand yet small inventory of homes drives prices upward, making homes more expensive and their interest rates higher.
"Americans appear to be aware of housing market conditions, with their opinions of whether home prices will rise trending in the same direction as U.S. home prices," Gallup reports. "But they also may be aware that it is becoming more of a seller's market than a buyer's market. While they remain optimistic that it is a good time to purchase a home, they are less optimistic than they were four years ago, when houses were more affordable and interest rates were lower."