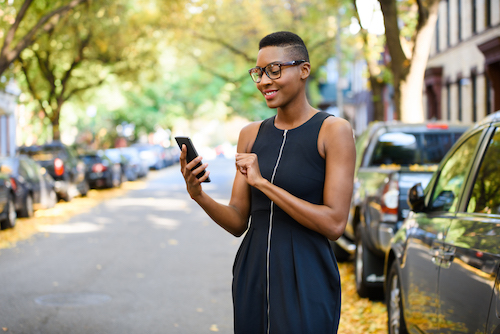 Nextdoor, the social network for neighborhoods, announced Tuesday that they will be joining forces with real estate analytics company HouseCanary to push property valuations and forecasts on the social platform.
Agents regularly turn to Nextdoor as a resource for local information and networking and the parnership with HouseCanary could make Nextdoor an even more valuable resource for agents. This partnership will also edge HouseCanary up in the real estate game as it is a close competitor with Zillow Zestimates as automatic, online estimates are becoming an integral part of the home buying process.
According to the company, about 20 percent of conversations on Nextdoor are real estate centered, twice as high as conversations about crime and safety issues in communities. Now, residents will have access to data that will shape their decisions in the housing market.
"Real estate has consistently been one of the most popular topics discussed among neighbors on Nextdoor. Millions of Americans are consistently seeking to better understand how to maximize the value of what is often a family's most significant financial asset: their home," said Nextdoor's Chief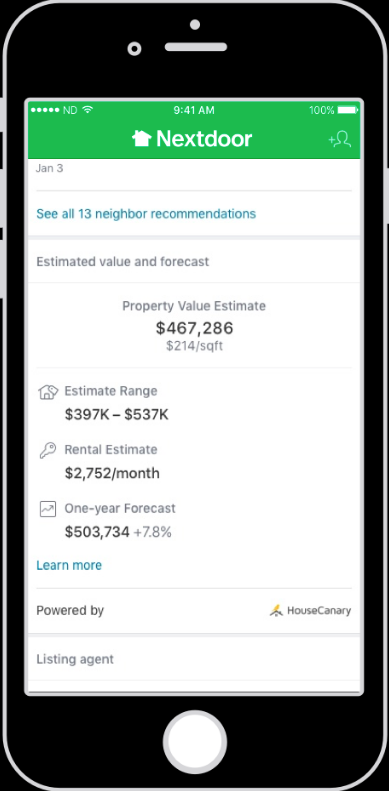 Revenue Officer Lauren Nemeth. "Now thanks to this unique integration with HouseCanary, Nextdoor can offer our members a one-of-a-kind tool that allows them to contextualize the value of their home, know when to sell, and, moreover, be able to compare their own home with nearby area listings."
The estimates and forecasts that HouseCanary provides will now be readily available for homeowners and agents. With current market data available, soon to be sellers will be able to maximize the value of their home as well as predict how it will appreciate in the future. Agents who "sponsor" neighborhoods on Nextdoor will be able to share market data, articles and communicate with residents in that town, which leads to personal relationships with prospective buyers and sellers.
"HouseCanary and Nextdoor both understand that real estate is inherently local. Nextdoor has created a social network that promotes sharing of information and closeness among neighbors. HouseCanary is the expert at predicting individual home values across the United States at the neighborhood level," said Lance Pendleton, chief innovation officer of WP/JBF Sotheby's International Realty. "The combination of an incredibly powerful local social network with a highly intelligent, predictive, and accurate home valuation tool adds unprecedented value to any agent's business."