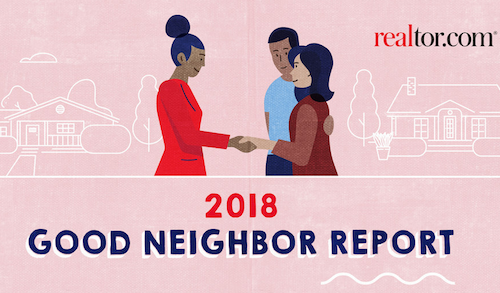 Having terrible neighbors can be an extremely negative experience for homeowners. However, luckily the vast majority of people currently believe that they have good neighbors. According to Realtor.com's Good Neighbor Report, 77 percent of participants said they are satisfied with their neighbors.
"While it's true that some people focus on what annoys them about their neighbor, it's a welcome surprise to see that people generally think positively of their neighbors," said Nate Johnson, chief marketing officer at realtor.com. "Trust and dependability plays an integral part in helping a neighborhood feel like 'home'. Building it can be as easy as stopping by to say hello."
However, not everyone is happy with their neighborhoods. Around 7 percent percent of all surveyed said they don't have good neighbors. Eight percent of women did not think they had good neighbors while 5 percent of men agreed.
But there are still some who may not know their neighbors. Nearly one-fifth of participants said they don't know if they have a good neighbor. Eighteen to 34-year-olds had the highest unsure responses at 21 percent, compared to 17 percent of 35 to 54 year olds and 13 percent of those 55 and older.
Either way, all generations agreed that being quiet and trustworthy are the most important qualities in being a good neighbor with more than half of those surveyed listing those as important qualities. Friendship isn't required to be a good neighbor with less than 15 percent said friendship isn't necessary.
Disrespecting the property is the worst quality a neighbor can have, according to 67 percent of respondents. Being loud, messy and unfriendly were also named the worst qualities.