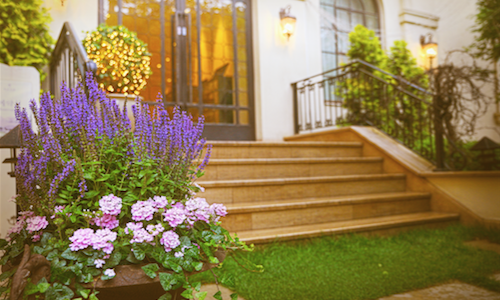 Trends in home design over this year's first quarter are treading familiar territory, with higher-end homeowners building bigger and, for another year, informal spaces, open space layouts, and access in and out of the home proving the most sought-after design elements. That was the nutshell conclusion of the American Institute of Architects' Home Design Trends Survey, released late last month.
For its study, AIA surveyed 500 residential architecture firms, and of the lot, 21 percent reported an increase in average square footage.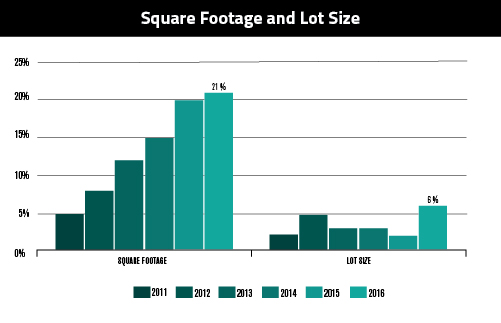 In 2011, results from the same AIA survey found only 5 percent of residential architecture firms were noticing an increase in square footage. The number of firms reporting increases to lot size increased similarly from 2.2 percent in 2011 to 6 percent this year.
But those gains have been driven largely by higher-priced homes. According to the report, 29 percent of responding firms reported homeowners in the upper end of the market expressing interest in increasing home size, while only 8 percent saw the same thing for entry-level homes.
Home design trends
Architects also answered questions on design features and what buyers want from a home without considering size. The No. 1 feature consumers are clamoring for is home accessibility, with 64 percent of firms reporting an increase in interest.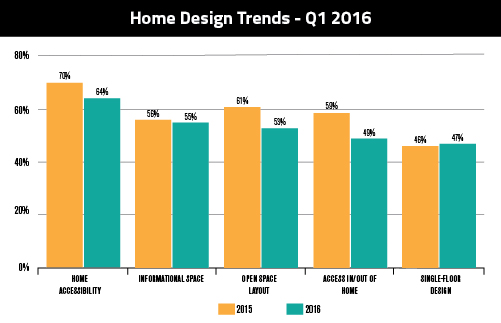 The overall sense AIA's survey conveyed is that homeowners, in general, are developing stronger inclinations to open homes with abstract arrangements that incorporate outdoor living spaces.
"Homeowners' interest in utilizing more of their property as a livable space while giving them a sense of connection to the outdoors remains very popular," said AIA Chief Economist Kermit Baker, PhD, Hon. AIA in a news release.