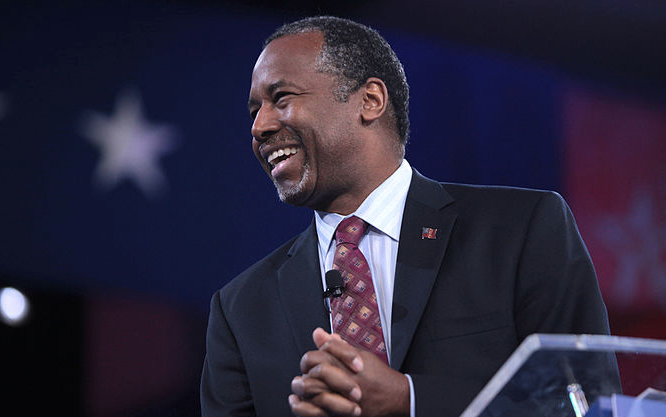 Ben Carson is close to becoming the next head of the U.S. Department of Housing and Urban Development, and industry associations are throwing their support behind him – while many housing experts are not.
In a letter sent to Senator Michael Crapo (R, Idaho), chairman of the Senate Committee on Banking, Housing and Urban Affairs, and Sen Sherrod Brown (D, Ohio), the ranking Democratic member of the committee, the National Association of Realtors put their support of the presumptive HUD head to paper.
"The 1.2 million members of (NAR) offer our support for Dr. Ben Carson as the Secretary of the Department of Housing and Urban Development," the letter read, later adding that "his innate understanding of the key role that housing plays in the health of individuals and communities will be a great asset at HUD."
The Mortgage Bankers Association also penned a letter to the Senate Committee on Banking, Housing and Urban Development, urging the committee to approve Carson for the position as soon as possible.
Altogether, at least seven national real estate associations have voiced support and congratulations to Carson, including the National Association of Home Builders, Community Home Lenders Association, National Housing Conference, and National Multifamily Housing Council and National Apartment Association.
The expert backlash
But while ubiquitous among associations, support for Carson as HUD secretary is not universal, especially among housing experts.
"As brilliant as folks have said that Dr. Carson is from a neurosurgery standpoint, creating fair housing, promoting economic development and having people living in prospering communities is a little different than operating on somebody's brain," said Michael Nutter, a Columbia University urban affairs professor and former Philadelphia Mayor, to The New York Times. "I do not know how that translates into being HUD secretary."
Nutter's sentiment was echoed in an open petition sent to the Senate Committee on Banking, Housing and Urban Development, which carried the signatures of hundreds of industry professionals, experts and academics, including such notable signatories as David Harris, managing director of Harvard's Charles Hamilton Houston Institute for Race and Justice, and David Smiley, the assistant director of Columbia's Graduate School of Architecture, Planning and Preservation.
The opening paragraph of the petition reads:
"We, the undersigned, strongly oppose the appointment of Dr. Ben Carson as the next Secretary of the U.S. Department of Housing and Urban Development. Apart from his personal views on a variety of political and social issues, we consider Dr. Carson completely unqualified to anticipate or promote appropriate solutions to the pressing housing and urban development needs facing our country."
Hoping for the best
Elaborating on their reasoning, the petition breaks down the signatories' disapproval of Carson as HUD secretary in three points:
Dr. Carson has no experience relevant to HUD's mission.
Dr. Carson has expressed disdain for HUD's mission, referring specifically to comments Carson has made criticizing fair housing laws.
Dr. Carson has displayed a lack of understanding of poverty and the role of government – again referring to past comments Carson has made, this time citing his now infamous line that poverty is "more of a choice than anything else."
NAR makes a valid point in its letter that Carson is uniquely qualified to understand the strong link between health and housing. But as more and more dissenting experts and insiders speak out, the question becomes – will that be enough?
---
Photo Credit: Gage Skidmore, Creative Commons Attribution-Share Alike 2.0 Generic, https://commons.wikimedia.org/wiki/File:Ben_Carson_(25509705932).jpg