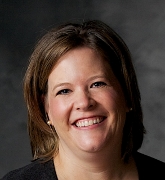 Every week, we ask an Atlanta real estate professional for their thoughts on the top trends in Atlanta real estate.
This week, we talked with Melissa Morgan, a Realtor with BHHS Georgia Properties in Buckhead. A nine-year veteran of real estate, Melissa is an expert in relocations, move-up buyers, residential sales, schools and swimming/tennis communities, and she even negotiates short sales and foreclosures.
Atlanta Agent (AA): According to new research, among large metro areas, Atlanta's housing market is the most accessible for middle class consumers; how important is Atlanta's affordability, when working with clients?
Melissa Morgan (MM): I think that it's terribly important, that we're one of the nation's most affordable housing markets, and it's such an amazing opportunity that anyone coming to Atlanta can find what they're looking for. We have a diverse community, both in Atlanta and in the surrounding suburbs, and it really is one of the U.S.' most exciting metro regions.
It's always been an accessible market for the middle class, but in-town living has certainly become more of a focus in the last 10, 15 years, with people wanting to be closer to entertainment, dining options and their school or job. Plus, it's much more accessible in-town than getting a 300-square-foot flat in New York City.
AA: We recently highlighted some of the positive trends happening right now in housing; from your perspective, what are some good things going on right now in Atlanta's marketplace?
MM: Fundamentally, I think we've really seen a huge decline in the distressed sales; regardless of where they are, distressed properties can bring down an entire market, so who can celebrate that change more than we agents? Our region was so heavily hit, so it's such a wonderful thing to see foreclosures, which used to make up 60 to 70 percent of the market, now down to a more reasonable 15 percent (and in some areas, as low as 9 percent).
All that change brings the market into check, and you don't have run-down foreclosures or short sales that are bringing down the market; those people who invested in real estate are now finally seeing returns on their investment, and some homeowners are thinking of selling.
AA: Finally, we keep hearing contradictory things about inventory – the data suggests that inventory is rising in Atlanta, but we keep hearing the opposite from agents. In your markets, what's the inventory situation like?
MM: I'm seeing low inventory, but more in terms of the existing homes market. In the new home market, the inventory is increasing at a good, steady rate.
There is a billboard in Atlanta that keeps count of the numbers of homes available any given day in the metro area. It reads, "We have X number of homes . . ." and it gives you the number of available homes. I can remember when that number was up to 145,000 homes; now, though, you drive by that sign, and it'll read something like 35,000. So when you go from 145,000 homes to 35,000, you have shrinking inventory in so many different areas – first-time homebuyers, move-up homebuyers and luxury homebuyers. Every market in Atlanta and every neighborhood has been affected.
What brings inventory back? Consumer confidence has to come back, but it's really all part of the natural ebb and flow of the market. You'll always have rising and falling seller's markets, and rising and falling buyer's markets – in between those two is a steady market.