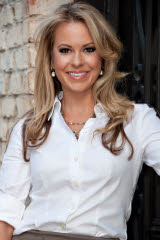 Every week, we ask an Atlanta real estate professional for their thoughts on the top trends in Atlanta real estate.
This week, we talked with Stacy Galan, a broker associate with Atlanta Fine Homes Sotheby's International Realty. An expert in numerous areas in Metro Atlanta, Stacy is a member of the Multi-Million Dollar Sales Club, and with her degree in film and television (and background in creative arts, marketing and design), she run a savvy, technologically modern business. An active church member, Stacy enjoys giving back to her community by volunteering at a local dance studio, and is also affiliated with the Sandy Springs/Perimeter Chamber of Commerce and the Georgia Hispanic Chamber of Commerce.
Atlanta Agent (AA): We've written a couple stories recently on today's lending standards; do you think lending remains tight, or has it lessened a bit?
Stacy Galan (SG): I have been extremely fortunate to work with qualified clients in my business. Most have excellent credit, and they're smart financially and fiscally responsible. It's imperative to take the time to pre-qualify your buyers (and this should be your first step) and ensure they choose a lender who can help guide them along the way, should any hiccups arise.
Some motivated buyers may need a few more months of savings for their downpayment to avoid PMI; I have seen many buyers putting more money down lately than in the past. It's an interesting development – I recently read an article on realtor.com that 47 to 53 percent of sales in Atlanta are all-cash. That should tell us that yes, in general, lending standards have tightened from previous years. We see plenty of investors/builders being aggressive in putting their cash into real estate. Fortunately, rates are still low, and buyers should take advantage of the low rates now or it could cost them more when rates go up.
AA: We keep hearing differing takes on how business has been, thus far in 2014. How would you say your personal business has been?
SG: My business continues to increase. I am grateful for the opportunities to work with buyers and sellers in today's market. It's important to keep your finger on the pulse of the market as it changes. Our clients want to have confidence in our knowledge and abilities as we educate and guide them to strategically position them to win in the marketplace. It's definitely a different market than it was a year ago.
I don't sense that things are moving as quickly as they were in 2013; there were tons of buyers hopping off the fence to take advantage of the historically low interest rates and low prices. Because of that, we started running into multiple offer situations, and we still do today in pockets around the city. Overall, Atlanta has a healthy market, with very few distressed sales on the market. We still have low inventory, which is the reason we are seeing many cranes and redevelopment of broken subdivisions that sat stagnant during the recession. It's a positive sign. Our local economy is improving, and we are making several improvements to prepare for the growth we expect to have over the next several years.
In 2013, prices increased anywhere from 13 to 16 percent in metro Atlanta. I see sellers and agents pushing the market a bit more in 2014 and being aggressive with list prices. I've seen a few more price reductions this year than last. It's important to speak to a local expert and have realistic expectations while selling or buying. We are seeing prices stabilize this year and expect a healthy, more average appreciation this year from 4 to 6 percent, roughly.
AA: Finally, what strategies do you follow when negotiating with other agents?
SG: I like to preface my calls to agents in order to set the tone for the negotiation process of the transaction. I want to make sure that me and that other agent are on the same page, so in my initial conversation with that agent – before we even talk about the details of the property or the contract – I want to ensure that we are in alignment heading towards the same goal for the best interest of our clients which is to make it a win-win situation for all parties. I want us to do our best to work together, mediate and have a meeting of the minds.
When you take the time to have a positive conversation with your co-op agent to achieve your client's desired result, it sets the pace and energy for the direction you're collectively heading in with optimism and likemindedness which gets you to the closing table.