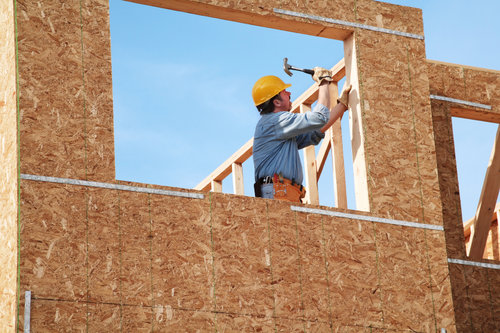 The National Association of Home Builders wants to organize its membership to help pass 15 of what it describes as "critical" building code changes.
In its release, the association wrote:
"NAHB is urging its members to get involved locally and schedule meetings with your state and local building code officials to discuss and gain support of our positions on the following critical code change proposals."
Here are a few of the changes NAHB is proposing:
1. RB129-16 – (IRC) Moves Fire Sprinkler Mandate to a new Appendix – This proposed code change will modify Section R313 of the International Residential Code (IRC) by moving the residential fire sprinkler requirements for one- and two- family dwellings and townhouses to a new optional appendix, and thus fire sprinklers will not be required in houses or townhomes unless the Appendix is adopted at the state or local level. Vote to "Approve as Submitted"
2. RE179-16 – (IECC) Additional Mandatory Energy Efficiency Requirements – This proposed code change to the International Energy Conservation Code (IECC) requires additional efficiency through a points based compliance process. The new multi-page table assigns points for various additional energy efficiency measures that need to be installed. Vote to "Disapprove"
3. CE105-16 – (IECC) Building Air Tightness – This proposed code change to the International Energy Conservation Code (IECC) mandates building tightness testing for certain sized buildings in specific climate zones. This will include nearly all mid- and high-rise multifamily construction. Vote to "Disapprove"
4. RB20-16 – (IRC) Wind Loads – This proposed code change updates Table R301.2 (2) based on new roof pressure coefficients in ASCE 7-16. Roofing costs in high-wind regions would increase significantly and material options would be limited. A new wind map reduces wind speeds in the West, but a fully coordinated revision of wind-related provisions to take advantage of the reductions has not been completed. Vote to "Disapprove"
5. RB26-16, RB27-16 & RB190-16 – (IRC) Balconies and Decks – These proposed code changes increase the live load for decks and balconies in Table R301.5 from 40 psf to 60 psf. The change would conflict with current deck requirements in Section R507, current industry guidance and local deck details, and proposed code changes for decks that are all based on the traditional 40 psf deck live load requirement. The WABO/City of Seattle public comment does not fix all of the conflicts. Vote to "Disapprove"
See the rest of NAHB's proposed changes here.