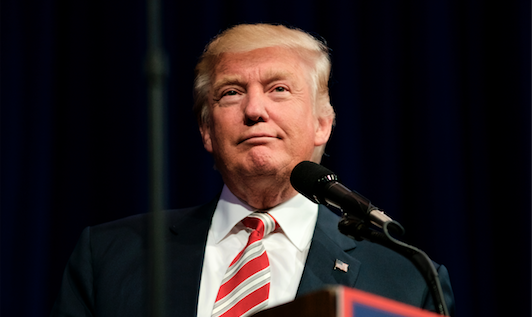 Donald Trump is the president-elect of the United States of America, and pending any unforeseen developments, he will be the leader of the country come Jan. 2017.
So what can we expect, as far as real estate and housing go? Here are five possibilities to consider:
1. Mortgage refinancing could skyrocket – In the immediate wake of Trump's victory, mortgage rates spiked nearly a quarter of a percent, which is a huge jump, considering the short timespan. Mortgage News Daily Chief Operating Officer Matthew Graham said that he was surprised by how quickly lenders pulled back: "Different lenders have moved by different amounts, but on average, the two-day total is o.25 percent." Markets do not like the unexpected, and a Trump victory was exactly that.
But that does not mean mortgage rates will stay that way. After Brexit, investors started buying up U.S. mortgage-backed securities and bonds, which helped mortgage rates fall (i.e., the Brexit effect). After Trump's victory, investors were expected to pull away from U.S. securities and bonds, because of the market's uncertainty, and as a result mortgage rates would be poised to rise; yet, according to Bankrate, Treasury note yields moved above 2 percent earlier this week, the highest they've been since January, and investors are now buying. Granted, the shock of a president-elect Trump has scared lenders, which is why mortgage rates have been going up; however, bond purchases, and the fact that the Fed will be delaying its December rate hike, suggest the spike will be limited, and the rates will eventually go down – perhaps lower than they have been.
There is no safe bet on the direction mortgage rates will ultimately take. However, from that uncertainty, we can assume that current mortgage holders will move to take advantage of the current rates, which remain at near historic lows. Over the next few months, it's likely will see a considerable rise in mortgage refinancing.
2. Foreign investment could fall – In an interview with Mansion Global, Redfin Chief Economist Nela Richardson drew a correlation between Donald Trump's immigration policies and luxury real estate in the U.S., arguing that one could negatively affect the other. "Any notion that (foreign) investment in high-end U.S. housing may be put at risk by an aggressive clamp down on immigration may also lead to some contraction in (the luxury) sector of the market," she said.
Indeed, Trump has claimed he will take aggressive action on immigration in his first day in office. In his "Contract with the American Voter," Trump vows to immediately begin removing the "more than two million criminal illegal immigrants from the country and cancel visas to foreign countries that won't take them back." Additionally, Trump claims he will suspend all immigration from "terror-prone regions where vetting cannot safely occur," although he does not define what those regions are. For the vetting that does happen, he added that it will be considered "extreme." If Redfin's Richardson is correct in her assessment, the more than $100 billion foreign investors have spent in the U.S.' residential real estate market could be in jeopardy – which would be particularly bad for international hubs like Atlanta, Chicago, Houston, New York and Miami.
3. Homebuilding could increase – In an August address to the National Association of Homebuilders, Trump explained that he wants to reduce building regulations from 25 percent of the total cost of a new home to 2 percent, though economists like Michael Neal assure that reducing those costs to 2 percent would be near impossible, especially given that most regulations come at the state and municipal level.
However, Trump could conceivably bring them down from the White House by changing such things as efficiency standards in the Department of Energy, which could spur a surge in building. How much new building is up for debate, but any increase in non-luxury inventory is a welcome one, as the nation continues struggling with supply issues.
4. Home prices could go up…or down – With a surge in home supply, prices could drop as the market normalizes. However, consumer confidence (and who is willing to enter the housing market) will likely vary from state to state based on its population's politics. Red states that went to Trump are likely to be more confident in their economic outlooks, while blue states the opposite. A willingness to enter the market will have huge ramifications on home prices; after all, demand begets increases.
5. Fannie and Freddie could die – There has long been right-wing animosity towards Fannie Mae and Freddie Mac because of the GSEs' history of buying subprime mortgages and serving political interests. As a result, it has long been a GOP agenda item to eliminate the two entities. But since the mortgage crisis, the mortgage insurers have straightened up, and now they help provide affordable mortgages to those who might not otherwise qualify or be able to afford a large down payment. If Trump bends to Republican pressure, we could very well see an end to Fannie and Freddie; according to a report from Forbes, that could spell the end of the 30-year fixed-rate mortgage and, possibly, a huge reduction in homebuying.