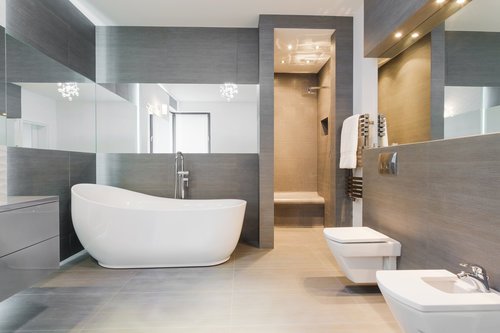 Homeowners in 2017 want a lot in their bathroom space. However, what used to be one of the main bathroom components — the bathtub — is one they do not want, preferring alcove or corner showers.
Houzz recently released their 2017 U.S. Houzz Bathroom Trend Study, in which results showed that 42 percent of homeowners splurge on upgraded showers, making it the number one bathroom amenity focused on during master bathroom renovation. Of those updates, 81 percent are to increase the shower size and 27 percent removing the tub (with the number one reason being in order to increase shower size).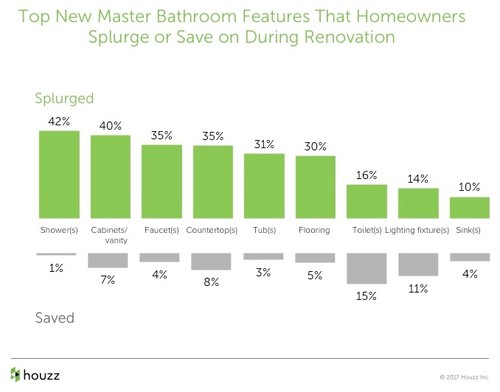 The study then showed that 25 percent of homeowners opt to increase the size of the total master bathroom — and the majority of these responders are made of millennial homeowners. However, it is baby boomers who are spending the most on master bath remodeling, spending nearly twice as much as those 35 and younger ($22,008 verses $12,500).
These generational findings also show that on average baby boomers are spending more than the national average cost of master bath renovation. Houzz calculated the average amount spent on completed bathroom renovations to be $21,000, and $9,400 on major remodels. Some of the reasons for this is that the majority have lived in their home for the last 10 years (69 percent) and intend to live there for the next 10 more at least (58 percent). Meanwhile younger homeowners are renovating starter homes.
When broken down by major cities, Atlanta was found to spend $20,800, just under the national average, on bathroom remodeling. For smaller bathrooms (100 square-feet or less), this amount drops to $7,200.
The report also revealed a growing trend of installing technology into the bathrooms, things like light dimmers, built-in shower speakers and motion activated amenities. The increase in demand this year is significant with 29 percent of homeowners having upgraded their toilets and 12 percent upgraded their showers with technological features.