Of all the tools available to potential homebuyers, members of the millennial and baby boomer generations cite their real estate agent as their most-relied upon resource while searching for a new home, according to a recent survey by Owners.com.
The survey showed that 54 percent of baby boomers and 47 percent of millennials relied most heavily on their agent during their homebuying process, compared with 42 percent of Generation X, who tend to rely on internet resources.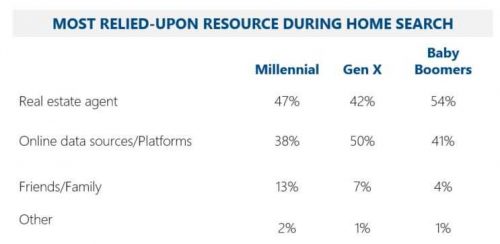 One reason millennials might be depending on their agents so much is their inexperience with the housing market. "Many millennials are first-time homebuyers and, in this competitive market, it's not surprising that they are leaning on their real estate agent to help guide them," said Daniel Maloney, head of national sales at Owners.com.
Despite being in the digital age, real estate agents still hold value for most homebuyers. Of the recent homebuyers who responded to the survey, 83 percent used an agent. Nationwide, 48 percent of all homebuyers report relying more on their agent than internet resources.
"Buying a home is typically the most expensive purchase most people will make in their lifetime, and there is a terrific opportunity for real estate brokerages to engage consumers with the right tools and data that can help them make more informed decisions," said Dario Cardile, vice president of growth marketing at Owners.com.
The amount of work that agents are trusted to do also varies by generation — only 29 percent of Generation Xers said they trust their agent to do most of the work in finding their perfect home, compared with 33 percent of millennials and 36 percent of baby boomers.
The majority of homebuyers — 55 percent — said they do internet research prior to contacting an agent to move forward with the buying process.
"Doing your own research online is a good starting point, but an expert real estate agent that is plugged into the local market can offer inside knowledge and help streamline the process to help get buyers into their dream home even faster," Maloney said.