Sustainable and eco-friendly homes are becoming increasingly desirable to homebuyers. In a recent survey from the National Association of Realtors' Sustainability Program, Realtor respondents reported that the majority of homebuyers — 61 percent — are interested in green living. Additionally, 71 percent say that having energy-efficient amenities in a listing increases the home's value on the market.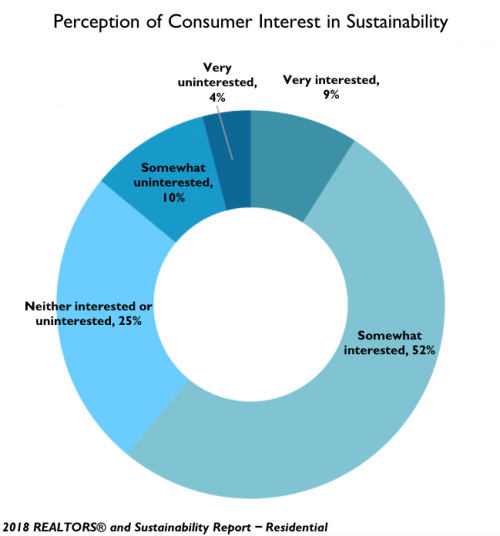 Several environmentally friendly features were included in the top neighborhood features clients want, such as 38 percent of clients who are looking for access to local food, 7 percent who want recycling and 6 percent who want a community garden.
Transportation-wise, 51 percent of respondents reported walkability as either very or somewhat important to them, and 32 percent said being near public transportation was very or somewhat important to them. The survey also found that 39 percent said that their community having bike lanes or paths was either very or somewhat important to them.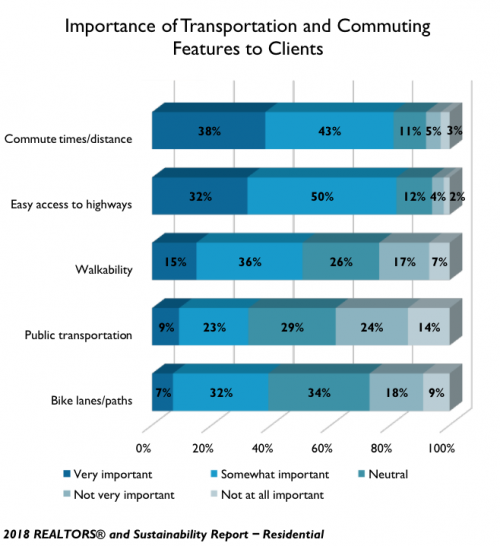 With the increasing interest in green homes from homebuyers, agents need to become more aware of eco-friendly features available in homes as well as highlighting those features when listing. Of the 40 percent of Realtors who reported that their MLS has green data fields, 37 percent use the data fields to promote green features, 27 percent use them to promote information about energy, and 16 percent use them to promote certifications for being eco-friendly.
Some of the specific green features analyzed include:
Solar panels 
80 percent of Realtors report that properties with solar panels are available in their market.

39 percent report that solar panels increase a property's perceived value.

43 percent said homes with solar panels spend neither more or less time on the market than average, while 33 percent said the effect solar panels had on a home's market time was unclear.
Wind farms 
76 percent of Realtors said wind farms were not available in their market, compared to 13 percent who said they were available (11 percent were unsure)

32 percent said wind farms had a negative effect on perceived property value, compared to 9 percent who claimed a positive effect, and 34 percent who said no effect
Tiny homes (under 600 square feet) 
23 percent of Realtors said they were available in the market, while 61 percent said they were not.
16 percent of Realtors were unsure whether tiny homes were available in their market.
The level of comfortability realtors had answering questions about a home's performance and efficiency was mixed, with 39 percent reporting being either comfortable or extremely comfortable, compared to 26 percent being either uncomfortable or extremely uncomfortable.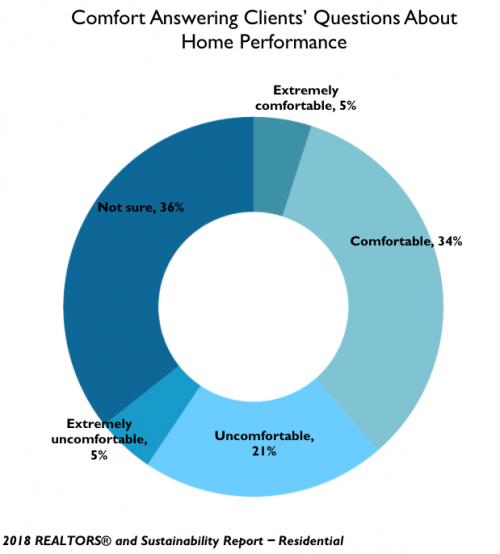 In the Midwest, 8 percent of clients were considered very interested in sustainability topics, compared to 52 percent who were considered somewhat interested. The majority of the region's clients also considered promoting energy efficiency in listings either very valuable (24 percent) or somewhat valuable (48 percent).
The regional breakdown of interest in sustainability topics can be seen in the chart below.
| | | | | |
| --- | --- | --- | --- | --- |
| | Northeast | Midwest | South | West |
| Very interested | 11% | 8% | 8% | 11% |
| Somewhat interested | 51% | 52% | 49% | 54% |
| Neither interested or uninterested | 27% | 24% | 28% | 23% |
| Somewhat uninterested | 9% | 12% | 11% | 8% |
| Very uninterested | 3% | 4% | 5% | 3% |
"Consumers continue to make it clear that environmentally friendly features and neighborhoods are an important factor in deciding where and what home to buy," said NAR President Elizabeth Mendenhall. "Realtors are leaders in the conversation about real estate sustainability, energy conservation and resource efficiency and will continue to promote environmentally conscious strategies and best practices that benefit not just our clients, but also our communities."