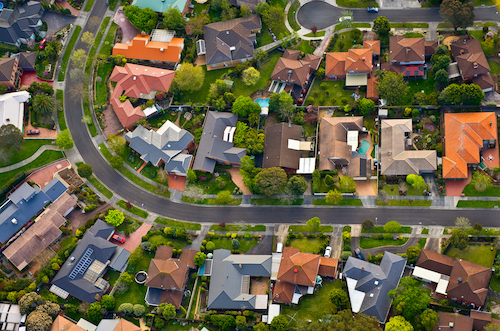 The U.S. economy grew at its fastest pace in four years during the second quarter of 2018, a reflection of low unemployment and greater willingness among consumers and businesses to spend and invest. According to the latest economic forecast from government-backed mortgage firm Freddie Mac, that trend should continue and help annualized growth reach some of the highest levels seen since the Great Recession.
But while the housing market played a major role in bringing about the last financial crisis, economists now expect American fortunes to continue growing in spite of a cooling housing market.
"The U.S. economy accelerated in the second quarter of 2018… despite weaker housing market activity," Freddie Mac wrote in its Aug. 27 forecast. "Housing starts, existing-home sales and new home sales all declined in the second quarter, and home price growth moderated."
Unlike in the recent past, this data isn't cause for alarm. Based on the strength of the labor market and the overall economy, Freddie Mac projects total home sales to grow, from 6.12 million in 2017 to 6.14 million by the end of 2018 and 6.36 million in 2019. With construction activity expected to maintain or even exceed current growth rates, the supply of homes for sale should also increase and keep sales aloft.
If the housing market is expected to weather a slower period in the coming years, why are economists still optimistic on the economy over that same period? In part, it's because the housing market, as measured by home values and total sales, has already been through an impressive growth spurt. Home prices were growing at an average rate of 2 percent per quarter as of Q1 of 2018, or as high as 3 percent per quarter in Q1 of 2013.
"This robust growth was unlikely to persist, and indeed, home price appreciation moderated in the second quarter to 0.9 percent," Freddie Mac found. "We forecast that home prices for the year will increase 6 percent, with the growth rate moderating to 4.9 percent [in 2019]."
At the same time, others including Federal Reserve Chairman Jerome Powell believe that a housing slowdown would not dramatically impact the U.S. economy like it did almost a decade ago because the economy is structurally different today. A combination of regulatory reform and shifting investment priorities have made it so that American financial institutions — and in turn, American consumers and businesses — are not as dependent on the housing market anymore.
"In terms of housing – the economy is so much bigger than it was before, and housing is so much smaller," Chairman Powell said in remarks to Congress in July. "If there's a downturn we're better prepared for it."