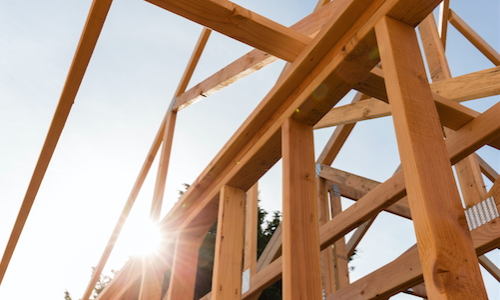 The latest survey of U.S. homebuilders by the National Association of Home Builders finds that confidence within the industry remains generally high despite some persistent headwinds. The NAHB/Wells Fargo Housing Market Index (HMI) for September remained unchanged from the previous month at 67, up from 64 at the same point in 2017 and only slightly off from May's recent high of 70.
The HMI is based on a survey of NAHB members that represent the single-family homebuilding industry across the U.S. An HMI above 50 signals a more positive outlook on current and future business performance.
Affordability concerns, driven by rising costs for construction labor and building materials, continue to be the primary limiting factor in terms of builder confidence. But analysts and economists think that optimism could decline significantly as a new round of tariffs levied on imports from China threatens to push building costs higher.
According to CNBC, the latest list of retaliatory tariffs issued Sept. 17 as part of an ongoing trade dispute between the U.S. and China would essentially put a 10 percent tax on up to $10 billion in Chinese goods used in home U.S. construction. NAHB estimated 600 products ranging from appliances to home furnishing materials could now face a 10 percent import tax. The effect of these new tariffs on builder confidence, if any, would not have been measured in the September HMI survey. Earlier this year, trade tensions between the U.S. and Canada pushed lumber prices to record highs, NAHB said, although those costs have since retreated.
One day earlier, NAHB released a study that analyzed single-family permit issuance for the year through July, comparing it to year-ago levels. It revealed that new home construction, as measured by construction permit issues, was up 7 percent compared to the same time last year.
Construction permits often provide a reasonable estimate of near-future building activity. Growth in permits was uneven on a regional basis, however. The western U.S. reported much faster growth in permit issues than the national average, with 14.3 percent more permits being issued between January and July 2018 compared to 2017. Colorado saw the fastest permit growth rate of any state (27.6 percent), while Idaho and New Mexico also posted figures above 20 percent.
The southeastern U.S. was roughly in line with the national average permit growth rate of 6.7 percent, but certain states were well ahead of the pace, including Florida (12.9 percent growth) and Alabama (11.1 percent growth).
See below for a state-by-state breakdown of new construction activity as measured by permits: