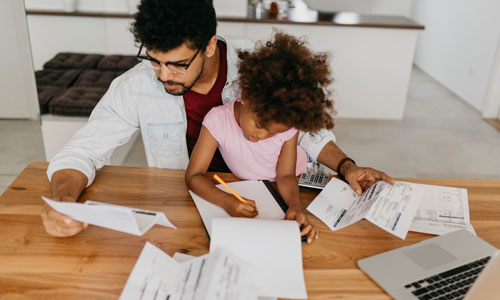 It may not be surprising by now to hear that the next generation of young adults wants to follow in their parents' footsteps and become homeowners soon. That's also increasingly true for those who are currently renters. A new study from Apartment List confirms this assumption once again: Based on a survey of 6,400 millennials who rent their homes, almost 90 percent said they hoped to buy a house at some point in the future.
However, based on further responses from survey-takers and a look at other data on this generation's financial health, Apartment List delivered some sobering news. Assuming housing costs, wage growth and savings rates remain at current levels, it could take more than 20 years for the majority of millennial renters in the U.S. to save for a standard 20 percent down payment.
While young adults who currently rent face a variety of obstacles on the path toward homeownership, 62 percent of Apartment List's respondents agreed that saving enough for a down payment was the primary challenge. Concerns about credit health were the second most-cited concern. Only 29 percent said they were delaying homeownership because they couldn't make monthly mortgage payments.
"These findings speak to the difficult economic circumstances many millennials find themselves in," the Apartment List report concluded. "Given these trends, it seems that for many millennials, the dream of homeownership will continue to loom on the horizon, frustratingly beyond reach."
Several of the report's key findings were broken down into greater detail, providing greater insight into the issues at play:
Homeownership timelines
While only 11 percent of renters surveyed said they had no plans to purchase a home at any point, the largest group of respondents (30 percent) who plan to own a home said they assumed it would take more than five years to do so. Just 4 percent said they would be buying in the next year, while renters who presumed 1-2 year and a 2-3 year timespans tied at 15 percent of respondents each.
Down payment savings
When asked how much millennial renters had saved for a down payment so far, almost half (48 percent) said they had not saved anything. The next largest group of responses to this question (34 percent) said they had saved less than $5,000.
Reported savings varied considerably by education level and student debt load. On average, Apartment List's survey pool had almost $10,400 saved up if they had a college degree and held no student debt. But college-educated respondents with student debt reported only $3,600 of savings, on average. Those with no college degree had under $1,500 saved for a down payment.
Down payment assistance
The Apartment List report touches on only one way that millennial renters may ease their down payment burdens: with gifts from family members. Less than 20 percent of survey respondents said they expected "some amount of help" from family in saving for a down payment, with the highest earners expecting the greatest degree of financial assistance.
The fact that a 20 percent down payment is not always necessary to purchase a home is not discussed in detail throughout Apartment List's report. According to the National Association of Realtors' 2018 Profile of Home Buyers and Sellers, the typical buyer this year made a down payment of just 13 percent, while first-time buyers put a median of 7 percent down.
When buyers put less than 20 percent down in cash toward a purchase, they often need to make up for it through higher monthly loan payments. They also reduce the equity stake buyers will have in the home from the beginning, but that is often a small price to pay for cash-strapped millennials.
"We think the proliferation of low down payment options is the result of where millennials find themselves in today's housing market," Apartment List's chief economist Igor Popov told Chicago Agent via email. While banks and lenders have marketed their own down payment assistance programs, even some tech startups are jumping on what could be an untapped market with bold new business models.
"We're even seeing startups emerge that target millennials who front down payments in exchange for future profits from the home," Popov said. "This helps get millennials into starter homes, but it increases risk exposure."