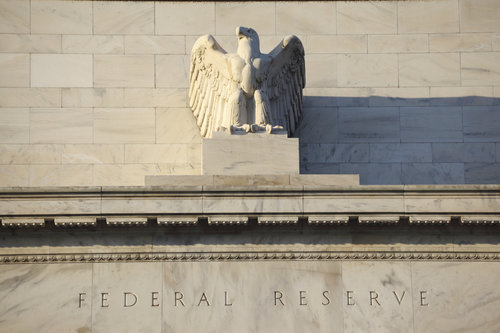 During their final policy meeting of 2018 this week, Federal Reserve officials voted unanimously to continue the central bank's pace of gradual interest rate increases.
As was widely expected, the Fed announced at the conclusion of its Federal Open Market Commitee (FOMC) meeting Wednesday that its key federal funds rate would increase another quarter-percentage point to between 2.25 and 2.5 percent. But financial analysts paid closer attention to changes in the Fed's forward-looking guidance on future rate increases, with the U.S. economy showing some signs of sluggishness in recent weeks.
"The [Federal Open Market] Committee judges that risks to the economic outlook appear roughly balanced, but will continue to monitor global economic and financial developments and assess their implications for the economic outlook," according to an official statement from Fed directors issued after the end of the December meeting.
The federal funds rate is the interest rate charged by the Federal Reserve Bank system to accredited financial institutions on short-term loans. It is closely watched by economists because it sets a baseline for borrowing costs paid on loans such as mortgages, and for its utility in shaping economic growth in a variety of ways.
While Fed officials, led by chairman Jerome Powell, had been on pace to keep raising interest rates once per quarter for at least another year, recent fluctuations in certain economic indicators have made them more cautious. The Wall Street Journal reported that in the FOMC's latest notes, 11 of 17 members of the group anticipate no more than two interest rate increases in 2019. However, during the FOMC's last meeting in September, slightly more committee members projected three rate hikes in 2019. This implies that Fed officials believe economic growth will not be as strong in the next year or two as it has been in recent years.
"Despite this robust economic backdrop and our expectation for healthy growth, we have seen developments that may signal some softening," chairman Powell said in his opening remarks to reporters during a post-meeting press conference. However, Powell characterized the shift as moving toward only "modestly" lower growth projections than previous estimates.
The U.S. housing market's performance as of late is one key indicator that economists and the Fed have been watching closely as they chart a course for the next few years. Gradually rising interest rates have made home mortgages more expensive in the last year, growing from around 4 percent at the end of 2017 to a high of almost 5 percent for a 30-year fixed-rate mortgage by early November, according to Freddie Mac.
For that reason, some in the real estate industry applaud this more cautious approach to rates. "Any indication by the Federal Reserve for a slower path of rate increases in 2019 is a potential upside to housing in the short term," said Ruben Gonzalez, chief economist for Keller Williams Realty. "The overall health of the housing market over time will be determined by the health of financial markets, employment and incomes."