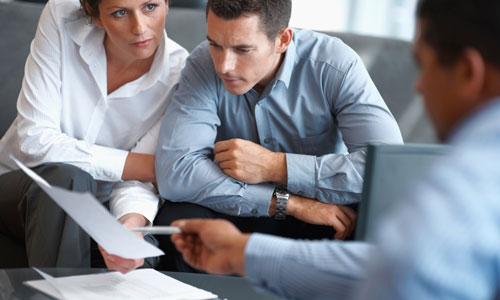 It's widely assumed the process of shopping for a home is easier today than ever, thanks to the proliferation of online search tools and easier access to real estate professionals. But when it comes to succeeding in that search, more Americans are finding themselves frustrated, according to a new survey from the National Association of Home Builders.
The NAHB polled nearly 17,000 people between December 2018 and January 2019 to compile the fourth-quarter edition of its Housing Trends Report. Among those who responded, 13 percent considered themselves prospective homebuyers at the time, with the majority being first-time buyers in the millennial demographic.
When asked to evaluate their ongoing home search, 72 percent of these prospective buyers said they expected the process to become "harder or about the same" in the months ahead. Only 19 percent said they thought it would get easier.
It may be that price growth and inventory shortages are taking a toll on homebuyer confidence. When asked the same question a year ago, fewer prospective buyers (65 percent) said they thought their search would get harder in the months ahead, while 27 percent expected it to get easier. Diving deeper, NAHB found more buyers reporting fewer available listings in Q4 2018 compared to the prior three months.
At the same time, these prospective buyers generally planned to continue actively searching, despite some frustration with the process. When asked what their next steps would be if they could not find the "right" home in the next few months, most respondents (63 percent) said they would simply "continue looking until the 'right' home opens up in a preferred location." Forty-four percent said they would expand their search area in response. Smaller percentages of buyers told NAHB they would either settle for less, increase their budget or simply give up looking for now.
Based on the NAHB survey, homebuyers today appear discouraged but not entirely hopeless. Their frustration may speak to the importance of a real estate agent's expertise and guidance through the homebuying process.
Other highlights from the NAHB's Housing Trends Report:
Most active buyer respondents (42 percent) said they had no strong preference to buy either a new or existing home, although another 40 percent said they were specifically looking for an existing home rather than new construction.
More than three-quarters of buyers surveyed said at least half of the listings in their market were outside of their price range. While high, this represents a slight decline from a year earlier, when 79 percent said at least half of available homes were unaffordable. This may hint at easing cost pressures in the last year.
Of respondents who said they were actively looking to buy, rather than merely planning to buy soon, 58 percent said they had been searching for more than three months. Again, fewer respondents said the same a year ago, when 62 percent reported actively searching for at least three months.
Price is the top reason why buyers haven't been successful in making a purchase, but there is some variation by age group. While 52 percent of millennial respondents cited price as the primary barrier to buying, only 43 percent of baby boomer respondents said the same.