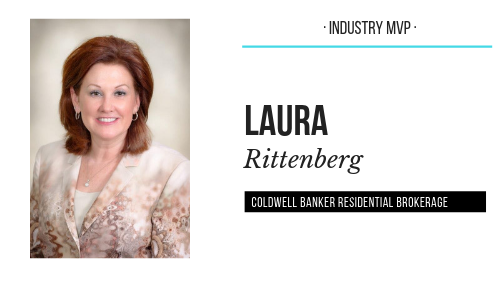 As president of Coldwell Banker Residential Brokerage, Laura Rittenberg oversees more than 850 sales associates in 13 sales offices throughout the region. Her leadership is focused on helping agents live "exceptional lives with Coldwell Banker's Core 4 Values, which include a commitment to Production Power, Coaching to Confidence, a Culture of Awesomeness and Wealth Building." It is this commitment to the industry, her company's values and her team that helped her stand out as the 2019 Industry MVP.
"I am proud to be recognized as a supporter and advocate of the real estate industry. I believe that we are keepers of the American Dream, and I take that responsibility very seriously," she says. "I don't feel it is enough to just be a real estate licensee, I am committed to the high standards of NAR and believe we all must follow their code of ethics. I take great pride in representing Coldwell Banker Residential Brokerage and our parent company, Realogy, which has been named to the World's Most Ethical Companies list for eight years in a row."
With more than 30 years of experience in residential real estate, Rittenberg has done it all —  salesperson, branch office manager, corporate executive and owner of two independent real estate companies, a mortgage company and a real estate licensing school.
She also served as president of Coldwell Banker Residential Brokerage on Long Island and in Queens, and under her leadership the company achieved more than $1.4 billion in total sales volume in 2016.
She is also an active philanthropist and serves on the Coldwell Banker Residential Brokerage CARES Foundation, the Atlanta chapter of Realogy Foundation. The foundation raises funds and provides financial support and assistance to non-profit educational, health, welfare, environmental and cultural arts organizations.
Runners-Up:
Mike Wright
Tyler Russell
Margie Medlin
Kacino Liggens
Michele Velcheck
---
See all of the categories in the 2019 Agents' Choice Awards.