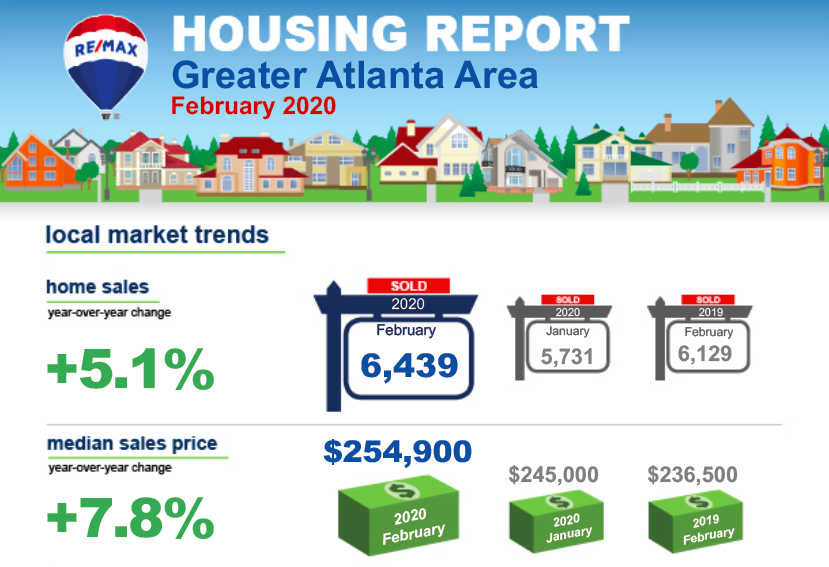 Atlanta enjoyed another big month for home sales in February, according to the latest RE/MAX housing data, but the report comes with the acknowledgement that uncertainty in the market lies ahead.
In February, home sales were up 5.1% year over year. A total of 6,439 homes were sold in February, up from 5,731 the previous month and 6,129 in February 2019.
The median sales price was $254,900 in February, up 7.8 percent year over year. The median price was $245,000 in January and $236,500 a year prior.
The number of days a typical listing spent on the market was down one day from a year ago to 57.
The report also noted a 2.4-month supply in February, down from 2.8 in January and 2.7 in February of last year.
Kristen Jones, broker-owner of RE/MAX Around Atlanta, said in a press release that agents in her office continue to list properties and receive multiple offers.
"An agent told a story of listing a $600,000 house on Friday at 1 p.m. By 4 p.m. Friday, he had 22 showings scheduled. As of Saturday, he had 6 offers above list price. Smart buyers want to capitalize on low rates," Jones said. "While there is uncertainty in the short run, most people believe we will see the other side of this thing sooner than later. We have heard of just a couple buyers — elderly and an investor — putting their home search on hold. Many agents are doing virtual open houses and showings. Doing virtual showings until buyers narrow it down to a few that they want to see in person minimizes contact."