Foreclosure activity in the ATL shot up by a double-digit amount in May, according to new RealtyTrac numbers.
Foreclosure activity in Metro Atlanta was up 27 percent year-over-year in May, according to the latest 2015 U.S. Foreclosure Market Report from RealtyTrac.
Atlanta was one of 13 metro areas which saw increases in forclosure activity since May 2014. Other cities that saw increases were Dallas (up 64 percent from a year ago), St. Louis (up 56 percent), Baltimore (up 35 percent), New York (up 34 percent), Philadelphia (up 28 percent), Detroit (up 27 percent), San Francisco (up 25 percent), Houston (up 18 percent), Miami (up 17 percent) and Seattle (up 10 percent).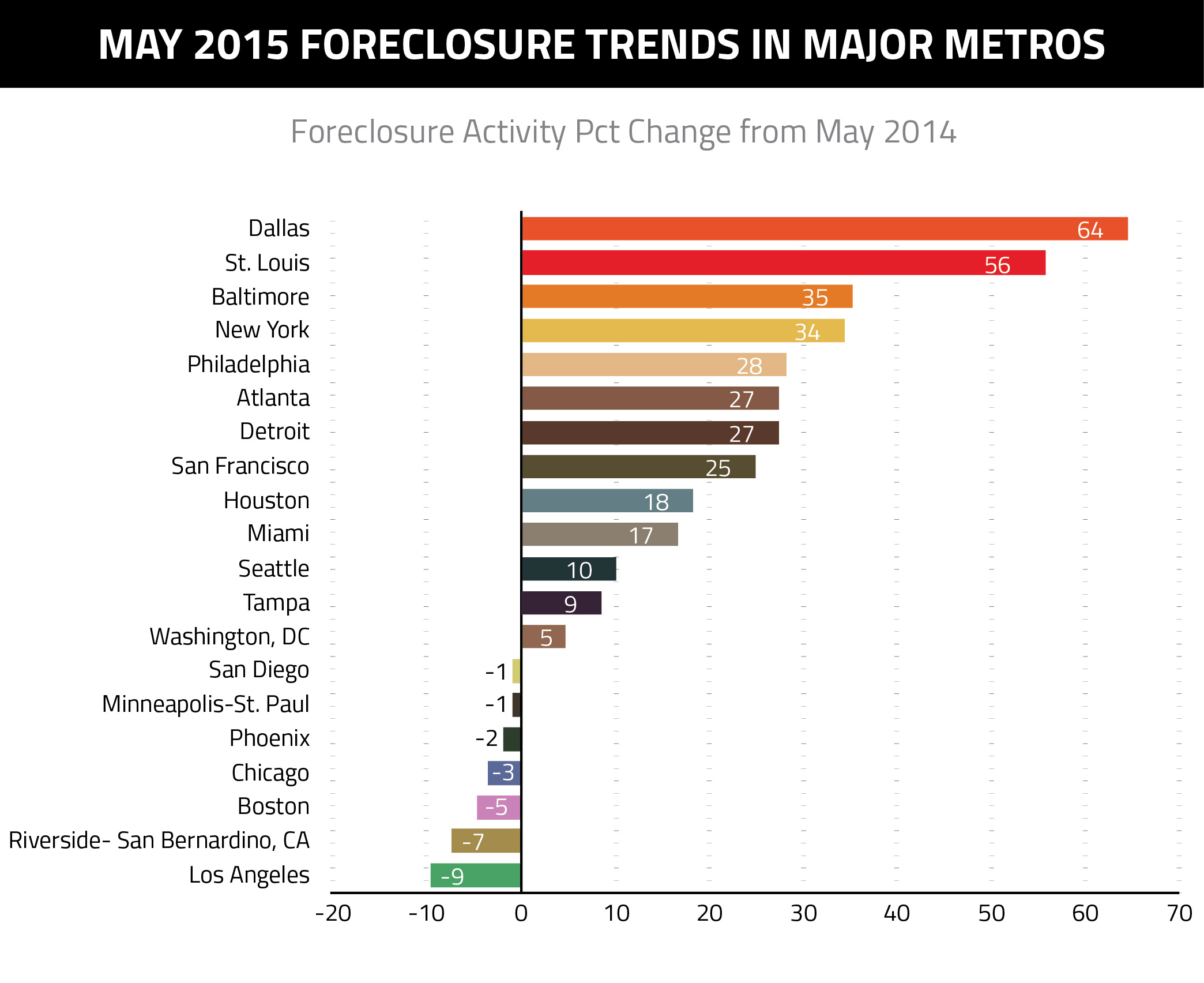 Foreclosures a Good News-Bad News Scenario
Foreclosure starts nationally were up 4 percent from a year ago, marking the first year-over-year increase in four months. However, foreclosure starts are still below pre-crisis levels from 2005 and 2006, when they averaged 52,279 a month. Twenty-five states in total posted year-over-year increases in foreclosure starts.
Additionally, 38 states and the District of Columbia saw year-over-year increases in bank repossessions (REOs). The highest was New Jersey at a 197 percent increase, but New York (116 percent), Ohio (114 percent), Georgia (108 perecnt), Pennsylvania (106 percent), Florida (63 percent), Michigan (63 percent), Maryland (62 percent) and California (31 percent) all saw notable increases.
Daren Blomquist, vice president at RealtyTrac, described the situation as a mixed message.
"May foreclosure numbers are a classic good news-bad news scenario, with the number of homeowners starting the foreclosure process stabilizing at pre-housing crisis levels but the number of homeowners actually losing their homes to foreclosure still well above pre-crisis levels and on the rise," Blomquist said.