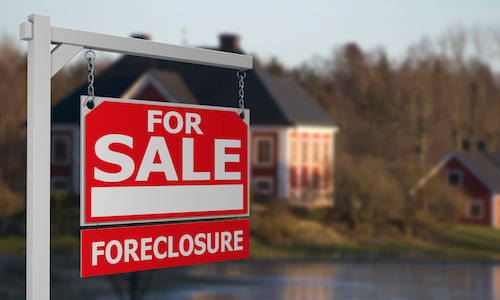 In September, foreclosure inventory continued its rapid decline, falling 24.3 percent since the same time last year, a new CoreLogic report found.
As a testament to the market's recovery – and a more total economic recovery – since the financial crisis began in Sept. 2008, approximately 6 million foreclosures have been completed across the country, including 55,000 in the 12 months preceding September – a 17.6 percent decrease year-over-year.
The share of foreclosures to total inventory dropped 0.4 percentage points to 1.2 percent from Sept. 2014 to Sept. 2015, and the decreases are expected to continue, as serious delinquencies have been falling alongside inventory share.
According to CoreLogic, the nation's SDR, defined as mortgages with payments 90 days or more past due (including loans in foreclosure or REO), fell 21.2 percent year-over-year in September, making the standing rate of 3.4 percent the lowest since Dec. 2007.
Georgia and its capital continued emulating the nation's pace. Foreclosure inventory in both markets fell 0.2 percentage points year-over-year to 0.7 percent, while their SDRs dropped to 3.4 and 3.3 percent, respectively.
The drops represent a much longer trend towards stability for the state and Atlanta. And pending any unforeseen turnarounds, these trajectories are expected to remain into the new year.
Divisions of Progress
Focusing solely on CoreLogic's national findings, the real estate industry seems poised to ease into sustainability within the next year or so, but at a more micro level, the pace of progression is far more diverse. Here is what the report found:
The five states with the highest number of completed foreclosures for the 12 months ending in September 2015 were: Florida (91,000), Michigan (45,000), Texas (32,000), Georgia (26,000) and California (26,000). These five states accounted for almost half of all completed foreclosures nationally.
Four states and the District of Columbia had the lowest number of completed foreclosures for the 12 months ending in September 2015: District of Columbia (69), North Dakota (310), Wyoming (498), West Virginia (593) and Hawaii (690).
Four states and the District of Columbia had the highest foreclosure inventory rate in September 2015: New Jersey (4.6 percent), New York (3.7 percent), Florida (2.6 percent), Hawaii (2.5 percent) and the District of Columbia (2.4 percent).
The five states with the lowest foreclosure inventory rate in September 2015 were: Alaska (0.3 percent), Minnesota (0.4 percent), Nebraska (0.4 percent), Arizona (0.4 percent) and North Dakota (0.4 percent).
Healthiest Market Since 2007
In a statement accompanying the report, the research group's deputy chief economist Sam Khater pointed to judicial states on the East Coast, such as Florida and New Jersey, as posting the most impressive foreclosure improvements. However, he's quick to point out that not all markets share equal footing.
"While the overwhelming majority of states are experiencing declines in their foreclosure rates, four states experienced small increases compared with a year ago," he said, referencing gains in other states, such as Massachusetts and Wyoming.
Still, despite the outliers, progress has been steady across the nation. Delinquency rates are nearing pre-crisis levels, and Anand Nallathambi, president and CEO of CoreLogic, said that healthier economic conditions and tighter underwriting standards are positioning the market for sustainable gains.
"As we head into 2016," he said, "based on every major metric, the fundamentals underpinning the housing market are healthier than any time since 2007."