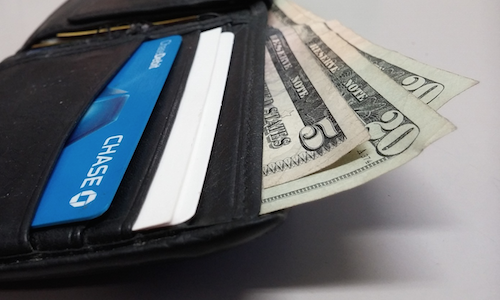 Year-over-year gains in national equity were in the double digits at the end of this year's third quarter, as a healing economy helped keep home price appreciation positive and consistent, according to a new report from CoreLogic.
On Sept. 30, on the eve of 2015's final quarter, mortgages in positive equity numbered over 46 million and accounted for 92 percent of all homes with an outstanding mortgage. In the 12 months preceding Q3's end, the number of homes with negative equity, or underwater, dropped 20.7 percent, increasing borrower equity by $741 billion and decreasing the value of negative equity from $309 billion to $301 billion.
However, while the boost in equity was widespread, millions of mortgages are still in the precarious position between equitable and approaching negative equity. Of the 50 million-plus mortgages nationwide, 8.9 million, or 17.6 percent, are under-equitied, or have less than 20 percent equity. There are just over 1 million, or 2.2 percent, of mortgages with less than 5 percent equity.
Still, steady declines in underwater and near-negative equity mortgages maintain the almost industry-wide agreement that the market is continuing to heal, and nearing a new era of stability. And improvements at the metro-level suggest the same.
Negative equity in Atlanta, at 9.7 percent of all mortgages, remains above the national levels, but has dropped from 13.9 percent in Q3 2014. Negative equity was also down year-over-year, falling from a 3.6 percent share of mortgages to a 2.9 percent share.
The drops are consistent with the market's improvements over the past year, and reflect the state's wider market, where negative equity share was 9.1 percent and the number of mortgages in near-negative equity was 2.7 percent.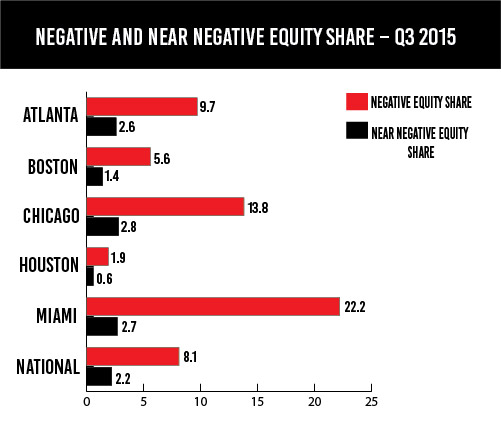 Mostly Good News
In its report, CoreLogic recorded equity gains in nearly all major markets, and as of this year's third quarter, only nine states had negative equity shares in the double digits. Some of the group's other findings included:
Texas had the highest percentage of mortgaged residential properties in positive equity at 97.9 percent, followed by Alaska (97.7 percent), Hawaii (97.6 percent), Colorado (97.2 percent) and Montana (97.1 percent).
Of the 10 largest metropolitan areas based on mortgage count, Phoenix-Mesa-Scottsdale, Ariz. had the highest percentage of mortgaged residential properties in negative equity at 14.2 percent, followed by Chicago-Naperville-Arlington Heights, Ill. (13.8 percent), Riverside-San Bernardino-Ontario, Calif. (11.4 percent), Washington-Arlington-Alexandria, DC-Va.-Md.-W.Va. (10.8 percent) and Atlanta-Sandy Springs-Roswell, Ga. (9.7 percent).
Of the same 10 metropolitan areas, Houston-The Woodlands-Sugar Land, Texas had the highest percentage of mortgaged residential properties with positive equity at 98.2 percent, followed by Dallas-Plano-Irving, Texas (97.9 percent), Los Angeles-Long Beach-Glendale, Calif. (95.4 percent), Minneapolis-St. Paul-Bloomington, Minn.-Wis. (94.4 percent) and New York-Jersey City-White Plains, N.Y.-N.J. (94.3 percent).
One thing that's important to note is that while the gains were nationally encompassing, when examined at the micro level, CoreLogic revealed that the bulk of positive equity is currently concentrated at the high end of the housing market. The example the group gives is that 95 percent of homes valued at $200,000 or more have equity compared with 87 percent of homes valued at less than $200,000.
Equity Will Rise in 2016
In a statement accompanying the report, CoreLogic Chief Economist Frank Nothaft attributed the lift in equity to the year's strong home price appreciation, and pointed to the shrinking share of under-equitied mortgages indicating an uptick in home equity loans.
"In Q3 2015 there were 37.5 million borrowers with at least 20 percent equity, up 7 percent from 35 million in Q3 2014," Nothaft said. "In the last three years, borrowers with at least 20 percent equity have increased by 11 million, a substantial uptick that is driving rapid growth in home equity originations."
Moving into 2016, the rate of equity growth may slow with price appreciation tempering to more sustainable levels, but CoreLogic's president and chief executive, Anand Nallathambi, assured that prices will still rise.
"The rise in home prices, expected to be at least 5 percent in 2016, will continue to build wealth and confidence across America," he said. "As this process continues, it will provide support for the housing market and the broader economy throughout next year."