Those hoping to move to Atlanta will likely face some competition during the search process — people who already live here are pretty much staying put. According to Redfin's recent migration report, Atlanta ranked fifth for most loyal residents of any U.S. metro during Q2.
The study analyzed online home search activity of more than one million Redfin users across 75 metros from April through June. According to the report, one particular trend seemed to continue from Q1 nationwide: migration from the largest, most expensive cities to various mid-tier cities.
The study discovered that 89.3 percent of Atlanta's Redfin users hoped to stay there. Atlanta is currently in the midst of a sellers market, which actually tends to make some homeowners more hesitant to give up their own space for fear they won't find another one. In a city with heavy market competition, a timely and affordable purchase isn't a guarantee.
But Atlanta searches weren't just limited to residents hoping to stay local. Atlanta also ranked no. 9 on the list of U.S. cities with the highest net inflow of users in Q2. Approximately 24.3 percent of Atlanta searches came from outside the area, and these 2,914 Redfin users primarily originated from New York City. In the Big Apple, 34.6 percent of users searched elsewhere for homes in Q2.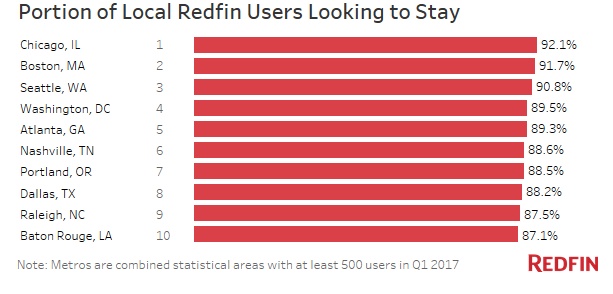 Source: Redfin