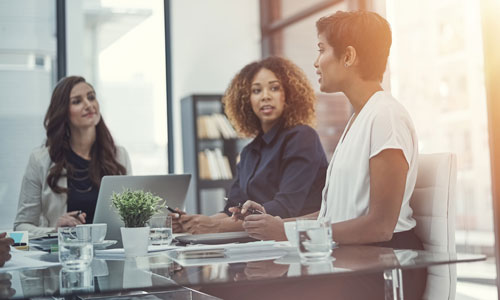 Real estate is a field that traditionally counts more women among its ranks than men; the 2018 National Association of Realtors Member Profile found that 63 percent of all NAR members were female last year. Yet when it comes to leadership positions in the industry, that figure doesn't necessarily carry through. Coldwell Banker recently released a report titled, "Examining Women and Leadership Survey," which looks at how real estate compares to other female-dominated industries in terms of the gender of leadership and found we still have a long way to go.
Our sister publication, Chicago Agent magazine, posed a few questions about the survey and the topic of women in real estate in general to Coldwell Banker Vice President of Product Marketing and Communications Zoe Horneck.
Chicago Agent magazine: What surprised you most about the findings in the survey?
Zoe Horneck: We were concerned, more than surprised, to see that more than one-third of Americans working in female-dominated industries agree that women face a glass ceiling, making it harder to achieve leadership positions. We were also surprised to see that men working in female-dominated industries were 75 percent more likely to have an executive-level position compared to their female colleagues. This survey showed us that the gender leadership gap is real, and we want to use these insights to demolish any perceptions of a glass ceiling in our network and drive conversations to ensure women in our industry feel empowered to lead.
CA: As you note, the real estate sales sector is dominated by women, but more men lead real estate companies as a broker-owner. Why do you think this is?
ZH: At Coldwell Banker's annual Leadership Summit last year, we hosted a panel comprised of female leaders to discuss this exact issue and we found that women in real estate often face two common hurdles: a lack of management training and limited opportunities for leadership positions in their offices. Our survey confirmed this to be true: 40 percent of employed adults say their companies do not offer formal leadership training programs. Furthermore, 21 percent of those who don't currently hold an executive position said an obstacle they face in striving to achieve a senior-level position is that their company doesn't provide the education needed to attain the position. If we want leaders to bring diverse perspectives, companies need to be promoting and encouraging leadership training for everyone.
CA: Do female-dominated industries have a harder time with this issue than those that are more evenly staffed between genders?
ZH: In industries like real estate, healthcare and education, the gender leadership gap may not be as obvious because there are so many women around. There are spectacular women who are leaders in these fields, but the leaders at the executive levels are still disproportionately men. With more attention brought to this issue and more programs introduced to tackle it, female-dominated industries can bridge the gap.
CA: How do you think the fact that real estate is commission-based impacts the pay-equity situation?
ZH: Unlike industries where employees negotiate a base salary, those in real estate are always negotiating their commissions. Women in this industry naturally develop strong negotiation skills as they progress in their career. However, across female-dominated industries, our survey showed that men are 20 percent more likely than women to say they have directly asked a supervisor for a raise or promotion.
CA: Do you think the need to attract younger workers will motivate companies to bring more women into their leadership circles?
ZH: Our survey found that younger workers were the most likely to agree that working for a company that has female representation at the executive level is important. As baby boomers retire and generation Z enters the workforce, having strong female leadership will be key to attracting diverse talent.
CA: Is the need for training in management and leadership skills more important in real estate than in other industries?
ZH: The job of a broker-owner is very different from that of an agent, so without formal training it would be tough to know where to begin. Not only are training programs essential for the long-term growth of agents, they're also great recruitment tools to attract and retain the best agents. A core part of the Coldwell Banker Women in Leadership Initiative is to encourage all agents, and especially women, to participate in formal leadership training programs.
CA: While formalized programs to get more women into positions of power is important, some of the issues — such as the idea that women have to work harder than men to earn an executive-level position — are cultural and deeply held at a personal level. How can a company break down these invisible barriers?
ZH: With open dialogue and communication we can go a long way in identifying and breaking down these barriers. It's important that people of all genders are brought into the conversation when we discuss why we need strong women leaders and how we can get there. Companies with diverse leadership tend to bring diverse perspectives on complex decisions and this means the company overall is primed to take on larger challenges. If we focus not on laying blame, but on how we can lift up women, we all rise to the top.
CA: What is Coldwell Banker doing to help change this situation?
ZH: Last year we launched our Women in Leadership Series, which started as a succession of monthly calls and blog posts featuring inspiring women trailblazers from the Coldwell Banker network and will soon evolve into a podcast. The featured women share what they've learned in their career, give advice to other women in real estate and take questions from our network. We're also designating May as Women in Leadership month and creating a guide for women leaders in real estate.
CA: Outside what Coldwell Banker is doing, are there any other initiatives to close the gender gap that you admire?
ZH: The California Association of Realtors' WomanUP! Initiative comes to mind. They have a mentorship program, real estate education courses, a Facebook community and annual conference, just to name a few ways they're driving to address the upward mobility challenge for women in real estate.