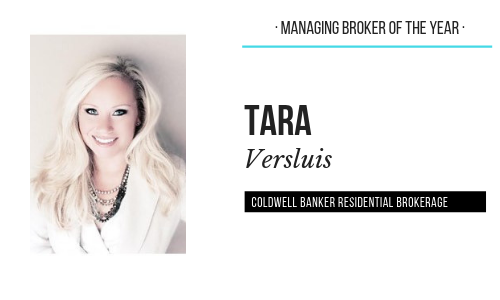 Tara Versluis likes the quote, "To be strong, you have to surround yourself with strength," which may be the key to her success as a managing broker with Coldwell Banker Residential Brokerage and why she is the Managing Broker of the Year.
"To take home this prize would be a win not just for me but for all our agents, the company, and the whole leadership team," she says. "We truly are a big family with a supportive culture. It would be the jewel in the crown of a record breaking year and an honor I'd carry for life."
"My daily goal is not to stop until I feel I've done something to move the office forward," she says. "I take my agents' careers very seriously and it's a great responsibility. I've incorporated our 4-core values into the structure of guidance and I believe they know I have their backs."
Last year the brokerage "put our nose to the grindstone" and become the number one Coldwell Banker office in Atlanta and in the top 10 percent nationally, she says. "My agents have increased their profitability significantly while also maintaining strong ethics and professionalism. I'm extremely proud of them."
Versluis has a varied background. She had 15 years of business marketing and advertising experience, negotiations and detailed contract knowledge, including international experience before entering real estate. Fluent in Dutch (with some German and Spanish), her high-end property presentations are distinguished for their superb photography and video as well as significant internet presence, which she attributes to her marketing/advertising background and design expertise.
As the manager of Coldwell Banker Residential Brokerage and the Johns Creek office, she is where she belongs. She was originally an agent in this office and then started her management career as the assistant manager in the Buckhead office. "Everything comes full circle and I was asked to come 'home' and be the broker for the Johns Creek office," she says. "This office is truly home and the agents and staff are my family. Just like a family, we celebrate successes and work as a team to help each other grow."
Runners Up:
Christian Ross
Torrence Ford
Collis Clovie
Derek Varnadoe
---
See all of the categories in the 2019 Agents' Choice Awards.