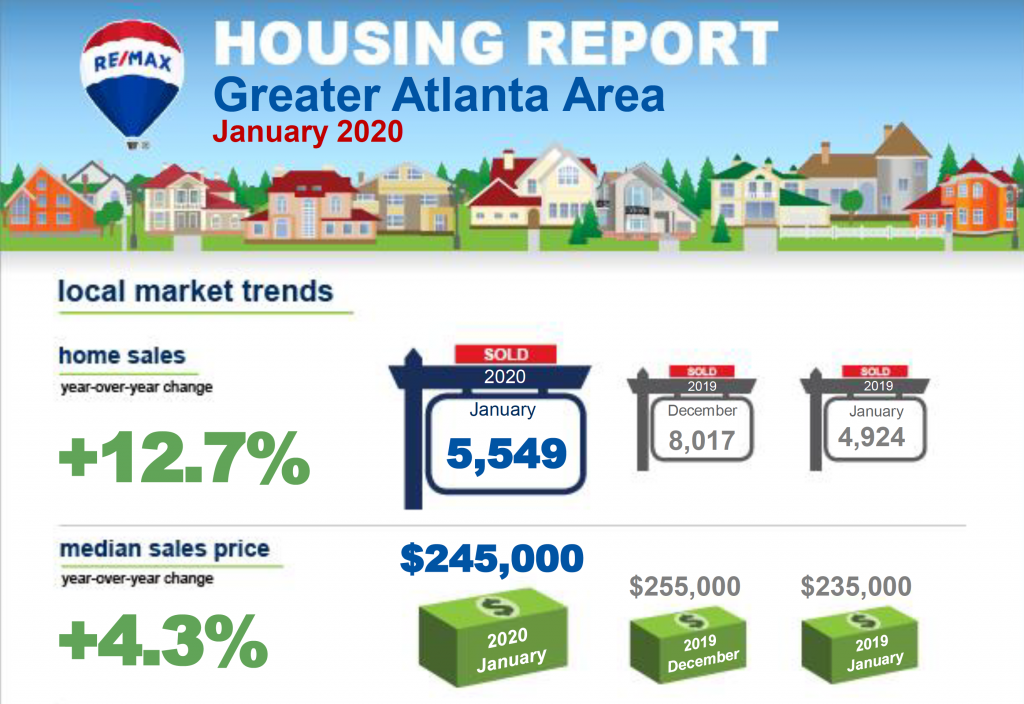 January was another banner month for the Atlanta real estate market, with year-over-year home sales up 12.7 percent, according to RE/MAX's most recent housing report for the greater Atlanta area.
That's compared to January of 2019, when sales were down 11.4 percent from the previous year. A total of 5,549 homes were sold in January, compared to 4,924 during the same time last year, the report noted.
Atlanta's residential real estate market outpaced the national home sales increase of 10.5 percent for the month.
The year-over-year median sales price was up 4.3 percent to $245,000. In January 2019, the median sales price was $235,000.
Homes took an average of 57 days to sell in January, an increase of three days from the same time a year ago and up five days from December of 2019. RE/MAX also reported a 2.7-month's supply in January, down from 3.4 months a year ago.
The report notes that every county in the Atlanta area experienced increased home sales in January, with Clayton County making the biggest jump from a year ago at 34.4 percent. That's followed by Gwinnett County at 13.6 percent, Fulton County at 11.5 percent, Cobb County at 7.1 percent and DeKalb County at 2 percent.
"The Atlanta market has been on fire it seems, as resales alongside new construction continue to run in a parallel race to see which will outpace the other," Torrence Ford, broker and owner of RE/MAX Premier, said in a press release. "Buyers are enjoying the record low interest rates that have created a healthy market."
Ford added that new projects, hotels and jobs in Atlanta have bolstered consumer confidence, but noted that it's important to build a city where long-term residents don't get priced out.
"As an Atlanta native, I truly welcome the spirit of a thriving city as long as affordability doesn't fall by the wayside," he said. "Mayor Keisha Lance Bottoms just placed a moratorium on building permits, which will help to curve gentrification on the west side of the city to place some relief on rapid rises in home values."