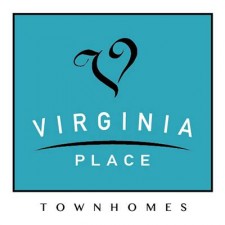 Virginia Place Townhomes has 23 new homes that are available for buyers. Prices are from the mid $500,000s. The homes come in four color palettes and in different styles: the Rosedale, the St. Charles, the Virginia and the Hudson. The homes are 2,300 square feet and offer three bedrooms and three-and-a-half bathrooms.
Features include hardwood floors, 10 foot ceilings, French doors, tankless water heaters and wrought iron stair rails. Buyer can also expect spa-style bathtubs, walk-in showers, tile floors, designer cabinets and granite countertops.
Jason Garmon of Southeast Capital Companies, one of the community's development partners, said that Town Place will supply family's with an endless supply of activities. The community is near the Fernbank Museum of Natural History and the Callanwolde Fine Arts Center among many other attractions.
"One of Virginia Place's best features is its accessibility," Garmon said. "The location is ideal—Virginia Highland is, in and of itself, a classic and established neighborhood with all the schools, shops, grocers and services that implies."