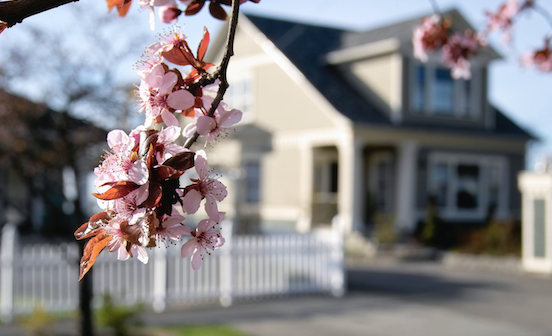 Real estate is a seasonal business – transactions rise and fall with the weather. And now it is officially spring. If agents want to capitalize on the sales bump, they'll need to be prepared.
Earlier this week, Redfin released an analysis of past spring-season buying habits. These were its major findings:
TGIT (Thank God It's Thursday) – There might not be any solid explanation for why it's the case, but homes listed on a Thursday "typically sell faster and for more money," the brokerage reported.
In all three statistical categories – "likelihood of selling above list price," "average sale-to-list price percentage" and "average days on market" – homes listed on Thursdays performed better. Compared to Sunday – which is, by a slight margin, the worst day to list a home – the sale price of homes listed on Thursday are, on average, $2,352 higher.
Perhaps the most stunning reveal is that despite the statistical advantages of the day, only 18 percent of sellers list on Thursdays.
You're Probably Not a Photographer (So Hire One) – The upfront cost of hiring a professional photographer or purchasing a higher-grade camera can be intimidating. But when it's compared against the long-term benefits, the value of that investment becomes clear. According to Redfin, homes, on average, sold for an additional $3,400 when the listing agent "used a high-quality camera and lens for their listing photos." It was particularly effective for homes in the $400,000 to $500,000 range, where high-quality photos effectively increased home value by an average of approximately $11,000. Well-shot photos additionally improved sell times in all price tiers; but, again, the most acute effectiveness was measured in the $400,000 to $500,000 range, in which homes photographed with a professional camera sold three weeks faster.
Price Honestly – It's not uncommon for a seller to want to price their home above market value – most homeowners have a certain pride in their home regardless of its quality. But it's an agent's job to separate real value from assumed, and ensure a home is not only sold at a fair price…but that it is actually sold at all.
"When you've had a higher price and you drop it, the buyer will start wondering what's wrong with it," said Shawna Besancon, a Redfin agent in Corpus Christi, Texas.
When a home is first posted online, it will receive five times more views than it will a week later, the report read. Even if the price is lowered, the listing's traffic will never exceed the number of views on that first day.
According to Redfin: "Even if you drop the price later, you've missed a critical window for getting buyers' attention."
In Besancon's experience, it's always best to "price honestly."
The Difference an Open House Can Make – What Redfin discovered was that the benefits of an open house vary from market to market, but by and large they "rarely lead to a higher price or quicker sale," the brokerage reported.
Across the 27 markets Redfin analyzed, homes averaged a 100 percent sale-to-list price when an open house was hosted within the first week of the property being listed, compared to only 98.1 percent for homes that never have an open price; that equates to a $4,284 incentive for agents to list the home in the first week. If an open house is hosted after the first week, any positive effect is negligible – or in other words, it's a waste of time.
In Atlanta, the decision to host or not host an open house had hardly any effect on the property. Properties that agents show via open house tend to fetch a negligibly higher sales price, but also sell slightly slower. Redfin describes the effect on the market as "neutral," which for many translates to "not worth it."