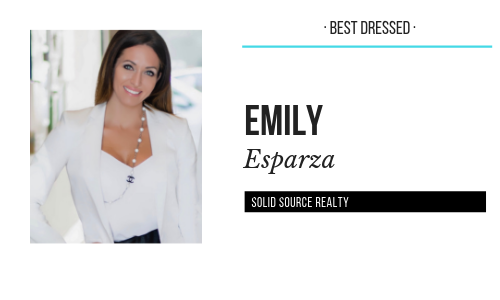 If a Realtor attends a showing wearing a pair of Valentino flats and a Rockstud crossbody, it just might be Emily Esparza. Named Atlanta Agent Magazine's Best Dressed, Esparza, a licensed Realtor since 2009, admits she enjoys dressing for the moment and strives to ensure her style is "fun, outgoing and fashion forward" while remaining true to herself.
"I feel extremely fortunate to have been named best dressed in Atlanta," she says. "Style to me is putting on a shirt, a dress or something casual and having confidence and feeling you're at your best and feeling your best."
While she loves her Louis Vuitton, Valentino and Chanel, she mixes and matches them with simpler brands or a "fabulous" Target find to piece together a chic outfit. Her go-to look is an amazing pair of shoes, a simple blouse or t-shirt, jeans from the sale rack and a cute modern jacket. Her favorite colors are black, white and a pop of color or a fun pink hue for lipstick.
Being well dressed is more than a look; it's an important part of her success. "I must say I do work hard to emulate my clients and always dress for the occasion. If my client dresses one way I will work to replicate that, and I have been seen showing some clients in my LuluLemon if my clients are most comfortable in active wear. I feel this also changes their perception of me in a good way and we develop a common thread based on what their style is and what they are comfortable in. Times have changed, and three-piece suits have become a real estate trend of the past."
It definitely works. This mother of two formed a team, Lux Living Atlanta at Solid Source Realty in April of 2018, which was named the number three team in her firm. She is also a member of the Circle of Excellence.
"I strive to put every client's transaction first and treating it as I am buying or selling the home for myself. I pride myself on putting my best foot forward every day," she says. "First impressions last a lifetime."
Runners-Up:
Katiti Mwebe
Colin Peebles
Terri Smith Roca
Patty Kendrick
Collis Clovis
---
See all of the categories in the 2019 Agents' Choice Awards.