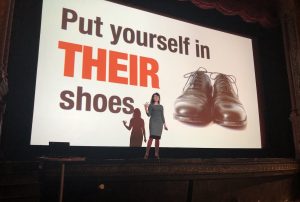 While so much of being a successful agent relies on doing whatever it takes to see a client through to closing, few agents take into consideration their own limitations. The Chicago Association of Realtors hosted two speakers May 9 at a local theater who presented two different yet complementary narratives on what it means to make a career out of real estate.
Ultimately, every real estate professional can benefit from a regular re-evaluation of their business goals to understand how they align with their personal sense of worth. As speakers Maura Neill of RE/MAX Around Atlanta and Bobbi Howe of Keller Williams in Kansas City explained, the balance of maintaining business health and personal happiness require an extraordinary amount of diligence.
"There will be times when it's going to be extremely work-heavy, and it's going to suck," Howe said, talking about her decades of experience in real estate, starting when she was a child attending appointments with her mother who was also a broker. "You need to pace yourself. You need to find balance between your work life and your personal life, but understand that it's rarely going to be perfectly balanced together."
Getting personal about real estate success
Howe pulled no punches in recounting her life as an agent, which was preceded by her mother's own real estate career.
"I'm gonna need your permission that it's OK to get really personal today," Howe said to begin her story. Growing up in northwest Missouri, Howe described an early life marked by trauma.When her mother was 12 years old, her father — Howe's grandfather — committed suicide. Years later, Howe's mother also took her own life, having spent a career as a real estate agent herself. Howe said the stress of the job, and the prevailing expectation that agents do whatever it takes to close a sale, contributed to her mother's anguish.
"I'm not ashamed of it or embarrassed" to talk about these tragedies, Howe said. Rather, she asserted that they represented issues that too often go unaddressed among real estate professionals, not to mention most working adults in America. Stress has a tendency to build up and boil over in a profession like real estate sales, where client service is paramount and the pressure to perform at an exceedingly high level is constant.
"We are all dealing with a struggle," Howe said. "We need to become transparent and vulnerable" in order to grapple with the very real health consequences stemming from seemingly trivial issues like burnout, anxiety or the occasional client who takes their privilege too far.
"My mom's story was similar to the story of Robin Williams, Kate Spade or Anthony Bourdain," Howe said, referencing three public figures who committed suicide in recent years after struggling privately with mental illness. Her story fits into the ongoing conversation around the lack of honest discussion taking place about mental health, in the mass media or simply between close friends. "It takes a village, not to raise a child, but to raise a human being."
In pursuing her own real estate career, Howe detailed the many ways she works to keep her personal well being in check, while still running a successful business in a service-oriented field. She blocks off time on her calendar at least a year in advance for vacations with her family, professional development events and other personal time. She sets clear guidelines with clients, making it known that she won't take calls or answer emails outside of normal work hours except in true emergencies. Howe even boasted that she has gladly fired clients — although very rarely — who show they aren't willing to respect the work-life boundaries she sets.
"People who didn't respect that didn't deserve to be in my life," Howe said. "They don't deserve you, either."
A case study in client satisfaction
Maura Neill's story overlapped with Howe's in that it presented other ways in which real estate agents can reframe the traditional approach to success. Neill often speaks with her industry peers about what agents can learn from seemingly unrelated businesses.
"There's so much we can learn from other industries outside real estate," Neill said. "When we start to look at examples of phenomenal customer service in other industries, we can apply that to our practice."
Neill's case study of sorts was Nordstrom. The department store franchise, now almost 120 years old, built its reputation on exemplary customer service. But Neill explained that the brand didn't earn its prestige by merely satisfying its customers or racking up as many transactions as possible, a lesson to real estate agents. To earn repeat business and referrals, agents must shift to delivering a great experience, not just a service, and should leave clients feeling ecstatic, rather than merely satisfied.
In that vein, Neill reframed her entire business plan. Instead of striving to meet goals for sales volume, she and her team focused on earning genuine online reviews from clients, generating more referrals and other "client-centric goals." Neill also borrowed Nordstrom's sales mantra: "Use good judgement in all situations." In other words, "if a client needs something from you and it's ethical and legal to do so, your team should have permission to do it," she explained.
The Nordstrom sales philosophy runs both ways, however, which Neill and Howe each made sure to highlight. Rather than simply accepting that "the customer is always right," the company's values come with limits. For example, Neill noted that Nordstrom has refused to follow a recent trend among its competitors and open its stores on Thanksgiving Day. While it still expected employees to be ready for an early Black Friday morning, Nordstrom recognized that allowing workers that day off was ultimately better for everyone.
"You have to set expectations with clients and come out of that place of fear," Neill said. "As long as I set the expectation that I won't be available at all hours of the day, they will respect that."
Throughout their time on stage, Neill and Howe each returned to this key point about growing a profitable real estate business without making unnecessary sacrifices along the way.
"Your health is the most valuable asset you have," Howe said. "Your health is your wealth, including your mental health."
---
Editor's note: An earlier version of this story mischaracterized Howe's family history. We regret the error.