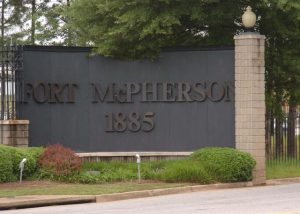 Florida-based homebuilder Lennar Corp. intends to buy 133 homesites on the grounds of Fort McPherson, a decommissioned Army base in southwest Atlanta.
The builder signed a letter of intent to buy the sites from master developer Macauley Investments earlier in June, according to the Atlanta Business Chronicle.
The homes built on the site would fit into a larger plan calling for about 4 million square feet of residential, retail, office, hotel and amenity space on the sprawling site, which sits walking distance from a MARTA train stop and about four miles from both downtown Atlanta and Hartsfield-Jackson Atlanta International Airport.
The homes built on the site would reportedly be townhomes ranging in price from $200,000 into the $300,000s.
The Fort McPherson base was closed in 2011 and 145 acres of the site were designated for redevelopment in 2015. In May 2017, Macauley Investments was selected oversee the development of the remaining 145-acre tract. Those plans are subject to a vote by a local redevelopment authority. The redevelopment recently secured an agreement to host Atlanta's  U.S. Food and Drug Administration office, which will move 350 employees from its current location in Midtown.