Tear-down starts are increasing to meet the rising demand for new single-family units, according to a new report from The National Association of Home Builders. The NAHB and Wells Fargo used their February 2017 Housing Market Index to track the progress of these starts.
Tear-downs increased from 7.7 percent of single-family home starts in 2015 to 10.2 percent in 2016. Twelve percent of builders said between 11 percent and 30 percent of their starts were tear-downs in 2016 compared to just 5 percent who said so in 2015, according to the NAHB report.
The western region of the country saw the most single-family tear-down starts last year at 33,400 followed by the south at 23,800. The 2016 nationwide total of approximately 79,300 tear-down starts is a significant increase from 55,200 total tear-down starts in 2015.
Average home age is also on the rise, a factor that often justifies a builder starting completely from scratch. In 2005, the median age of an owner-occupied single-family home was 31 years — by 2015, that number had jumped up to 37, according to the report. In fact, the NAHB predicts the increasing demand for more suburban units paired with the aging of current properties will continue to account for more tear-down starts.
What the current trend means for the future
According to the report, the increase of tear-down starts alludes to a recovery of the single-family housing market in the coming years. Though single-family starts have been relatively flat in recent months, these starts as a whole increased by nearly 10 percent in 2016. A shortage of inventory has also called for the quick construction of single-family units nationwide.
For builders and remodelers, replacing the old with the new actually provides a favorable opportunity to jumpstart a personal project or to meet specific project pipelines. Though cities such as Los Angeles have taken steps to limit the size of new lots, these smaller and more affordable spaces have actually pushed more first-time buyers to commit to purchasing homes — a factor that bodes well for tear-downs in the future.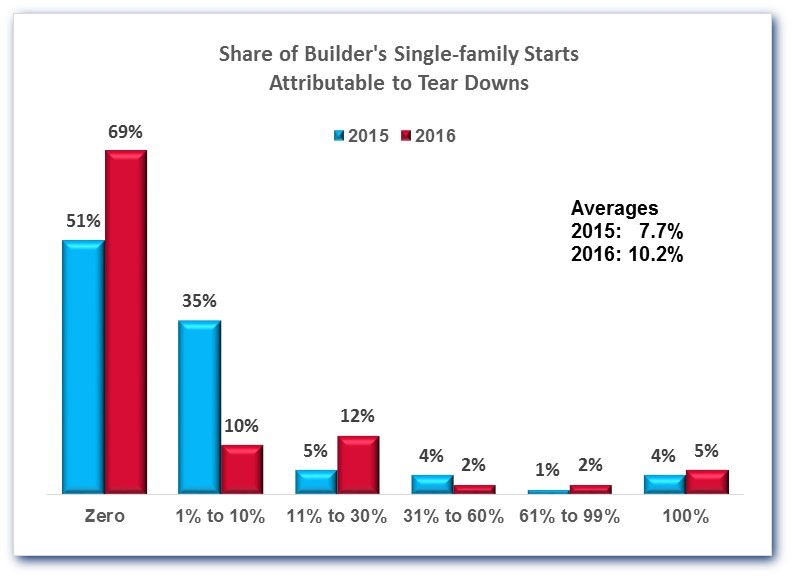 Source: National Association of Homebuilders