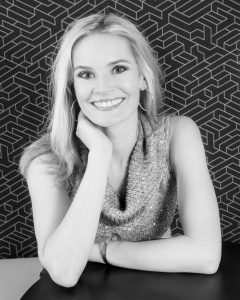 Name: Ginger Lightburn
Job Title: Realtor
Company: Village Realty
What was your first job in the industry? Realtor with Solid Source Realty—I owned a marketing firm prior to getting into real estate. I managed the North America marketing launch of a tankless water heater product, and it sparked my interest in the real estate market.
Where did you grow up? Lilburn, GA—Go Panthers!
Growing up, what did you want to be? An astronaut. Oops, turns out, I'm afraid of flying. So I settled for a public relations professional, which ultimately led me to real estate.
What do you do to relax when you're stressed? Pilates! It's hard to be stressed when you are gasping for air and sweating by just standing in downward-facing dog.
If you could have lunch with a well-known figure (living or not), who would it be and why? First choice would be Mother Theresa (yes, I understand the challenging logistics there) because I admire her lifelong commitment to serving others and her selfless way of loving all those around her. But realistically, I'd love to lunch with Joanna Gaines because she wasn't born into wealth or fame, but she was true to herself, her talents, her family and she became pretty amazing. I love that she took small risks, turned them into bigger risks, and worked hard to make her life happen. A self-starter all the way, and all while leveraging what was in her heart and mind.
Where is your favorite place to hang out? At home with my family or on any Caribbean island with my husband of 15 years!
What do you love most about the industry? I love that I get to be a part of telling a family's story. Every house a person buys becomes part of who they are, and it becomes a part of lifelong memories their kids will laugh about after college. I like to think my service to the world is making that journey better and protecting those precious future memories.
How do you distinguish yourself from the crowd of agents? I'm a relationship person. I work with friends, family, and friends of friends because the level of service I provide is second-to-none. I stick to the Golden Rule my mama taught me: Treat people the way you want to be treated. It has never failed me or my clients; it is what drives my daily choices. What sets me apart from others that say this type of thing? My sincerity. Have some chicken salad and sweet tea with me, and it's easy to see what makes me different from other realtors.
What is the most difficult aspect of your job? When situations out of my control make it difficult for my clients. I can't always control every portion of a real estate transaction or negotiation; unfortunately, there are other humans with opinions and agendas involved in every situation. Since I've been buying and selling real estate for over 12 years, I can anticipate a lot of things that my clients could face, and that's a huge value for them. But as we all know, I don't have a crystal ball so I can't predict every single reaction the person across the negotiation table will have, nor can I predict some of the crazy factors that sometimes come into play. When those things mess up the goals of my clients, it's difficult for me because I'm so protective of my clients.
Where do you go to network and meet new clients? I go where life takes me. Usually it takes me to elementary schools and extra curricular activities that my kids are involved in. Because I'm so relationship driven, that's where I spend my time and those groups of moms and dads become "my people" and ultimately me clients.
What has been your greatest accomplishment? My three beautiful children. Cheesy, but so true. Work-wise: I think the honor of being a lifetime Top Producer/Multi-Million Dollar award winner from the Atlanta Board of Realtors is what I'm most proud of; it shows my years of dedication (i.e. loss of sleep and a lot of cell phone bills later) have paid off.
What was the last good movie you saw or book you read? Book: "You're a Bad Ass" (sorry for the language)—Ladies, it lays it out there if you want to be successful in any industry. Basic recap: Suck it up, Buttercup. Get out there and do something. Movie: I have three little kids—face it, I don't get to the movies very often. So I'll go with "The Greatest Showman" because I'm a dancer, a musical theater buff, and love good music (maybe because my husband looks like Hugh Jackman, too).
What is your favorite restaurant? Vinny's on Windward Parkway, Alpharetta.
Architecturally speaking, what is your favorite building in Atlanta? Atlanta Tech Village—the outside renovations are very cool, but the inside is so dynamic! I also love the Georgian Terrace. I'm a Southerner, and it has all that good Southern flare!
What kind of car do you drive? Tesla or Armada, depending on if I have the kids and/or dog with me.
Smartphone or paper? Both! To Do lists are on paper because I'm almost old. Smartphone because you can rule the world through your iPhone!
What is your favorite city after Atlanta? Denver, CO.
In 10 words or less, what is your advice for someone new to the industry? Knowledge is power! Go to the classes, find a mentor.
What's your favorite real estate iPhone/Android app? Venmo! Industry-wise—love my Supra ekey. It gets me in everywhere!
Who are your favorite people to follow on Twitter? Twitter isn't really my thing. Instagram and FB are more my speed. #cottagestyle, bohobeautifullife, Kelly Stafford, North Point Community Church, Sara Blakely, Atlanta Tech Village, Ina Gartner, Village Realty, The Good Life Team (Austin, TX), Dawg Nation (Go Dawgs!), and Joanna Gaines.
---
Want to be featured in our Agent Snapshot? Click here and complete this survey. Agent Snapshots are published on our website and shared in our newsletter and social media feeds.